College Soccer Search Night
Posted by: Ash Hopkins | Girls Director of Coaching
Each year, Rapids Youth Soccer attends one of the region's premier college showcases over President's Day weekend in Phoenix. Coaches from all over the country will be present to assess players and evaluate their needs for the coming seasons. For many players this is a proving ground to show that they have what it takes to play at the next level. Tournaments with such a regional pull can be a necessary benchmark in understanding the progress players are making and the work still needed to compete in the college game. With over 200 college coaches in attendance one might think that potential will undoubtedly garner attention but that may not be the case. According to the NCAA, only 5.6% of boys and 7.2% of girls end up playing in any division of college soccer. With competition at an all-time high, it is vital that potential student athletes have a full understanding of the commitment required to play the college game.
Rapids Youth Soccer supports its players and families by offering a college advisory program to assist in navigating the recruiting process. College Soccer Search Night is a vital part of building parent and player understanding of choosing a school. On January 15th, students and parents gathered at Dick's Sporting Goods Park to participate in College Search Night. With over 150 players and parents in attendance, it was the largest College Search Night Rapids Youth Soccer has had.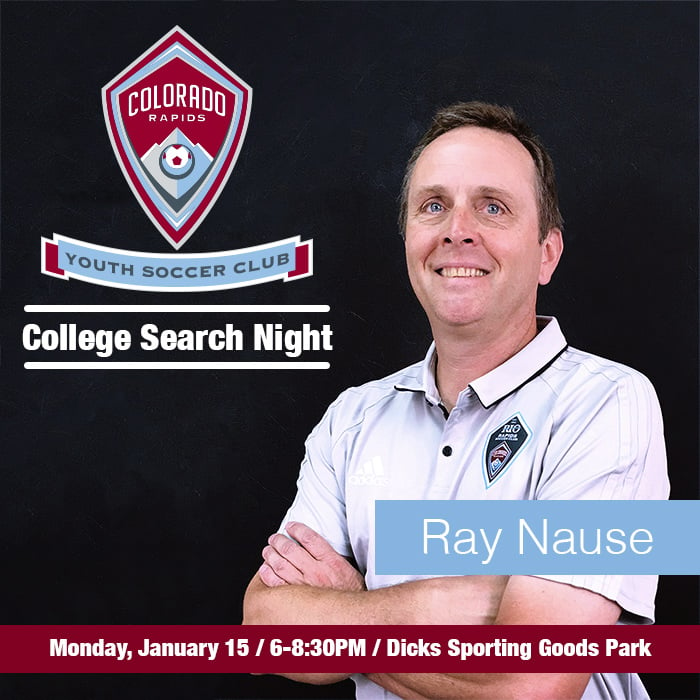 Rio Rapids Director of Coaching Education, Ray Nause, presented on the ins and outs of the college search to a packed house profiling the key steps of choosing a school. Ray's 16 years of experience as a college athletic director and coach has given him the insider knowledge needed to equip players and parents with the knowledge needed to find the right college.
Ray's presentation provided Rapids Youth players a solid foundation to taking the steps needed to help themselves stand out locally and nationally when looking for potential college options.
Colorado Rapids Youth Soccer would like to thank all of the players and parents who came to College Soccer Search Night and a special thank you to Ray Nause for speaking. Be sure to follow Colorado Rapids Youth Soccer on social media for updates on club events, programming, and more.