Soccer Development in Underserved Communities
Posted by: Jaime Morales | Outreach Program Manager
Rapids Youth Soccer has a dedicated and passionate Outreach Team working to provide soccer programming to underserved communities in Colorado. Jaime Morales discusses how his childhood dream paved the way for his work with the community.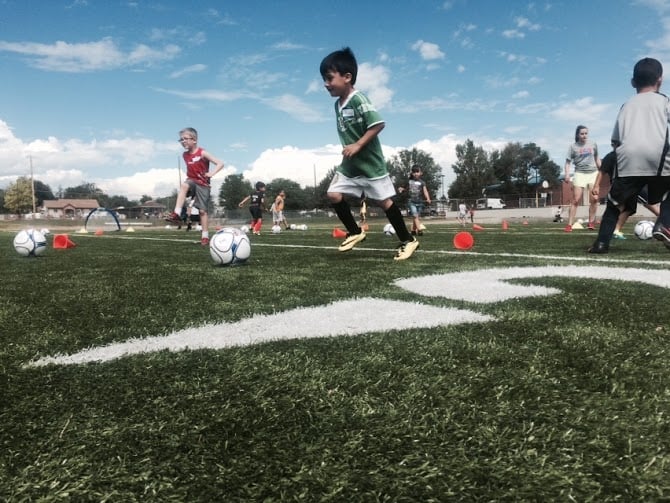 Dreaming of Futbol
As a youngster I always aspired to be a professional football player. No, not a NFL player, a futbol player! I emulated my game after Jorge Campos, the eccentric Mexican goalkeeper who played on the national team and appeared in the '94 and '98 World Cups. The vibrant, colorful jerseys that he sported were a key characteristic that I wanted to copy on the pitch, but it was his leaping ability, athleticism, and speed that I truly admired and modeled to the best of my ability.  While I was a skilled goalkeeper by my own rights, I never quite made it to the professional ranks.
Since then, soccer development has come a long way in the United States. While the sport has been followed around the globe for decades, we are just now seeing the popularity of soccer development increase here in the U.S.  Much of this increase is attributed to the globalization of the game via media coverage, television rights, and highly priced superstars.  
My childhood dream is not unique, it is one that thousands of boys and girls have today.  We often see this dream motivating in the youth we work with here in Denver. Yet, the pathway to achieving that dream is not easy, especially in our underserved communities. Last June, in The Guardian, Les Carpenter wrote an inquisitive piece on American soccer's diversity problem.  In this article, he argues that the pay-to-play model severely disenfranchised communities of color in our country.  He notes that the high registration costs and out-of-state tournament fees and travel costs restrict participation in the elite soccer teams and clubs in America.  In other words, soccer in America has become the suburban game; where family income dictates how far a player will make it in their development.
Helping Soccer Become More Inclusive
I do not criticize the pay-to-play model. Rather, I hope to discuss solutions to finding appropriate and financially viable soccer development to continue to build our Outreach program. The Outreach Team here at CRYSC is dedicated to bringing soccer development, along with the health and community benefits tied to the sport, to underserved communities here in Colorado. Through the efforts of dedicated staff members through programs like Soccer for Success and the Zarlengo Scholarship, we are working to make soccer more inclusive. Our goal is to provide quality soccer programming to help the next generation of Jorge Campo wannabes become the best futboleros they can be!