Donald Gillies Joins CRYSC As Technical Director
Posted by: Rapids Youth Soccer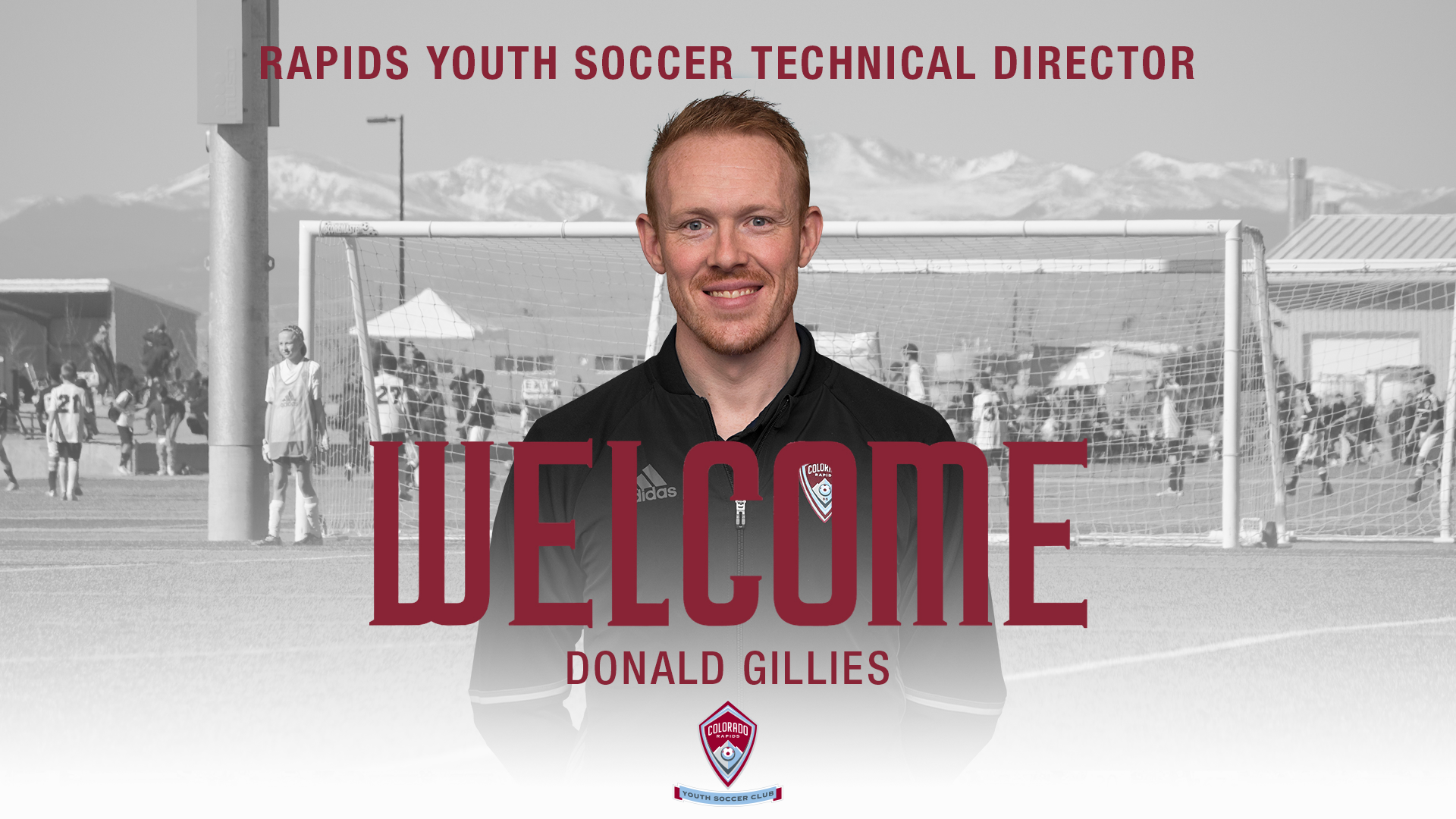 It is with great enthusiasm that we welcome Donald Gillies to Colorado Rapids Youth Soccer Club (CRYSC) as the Club's new Technical Director.
After 16 years with the Scottish Football Association, Donald Gillies brings a wealth of experience to the Technical Director role at Rapids Youth Soccer, where he will be responsible for the design and delivery of the Club's Technical Development Plan.
"The search for the right Technical Director has been a year-long process and an international search. We feel confident that Donald is the perfect fit for the position and will help lead this Club in an exciting and positive direction, resulting in better soccer education for players, more consistent coaching between age groups, and ultimately a better Colorado Rapids Youth Soccer Club experience," said CRYSC Executive Director, Aaron Nagel.
As Technical Director, Donald will maintain, evaluate, and grow the Club's Technical Development Plan. This means he will be taking the philosophies and pathways that underlie CRYSC's Long-Term Player Development Plan and turn them into an actionable plan that will better align coaches, players, and even members with the Club's vision for the soccer we play.
"I am incredibly excited to be given this opportunity to work with a fantastic Club. It was a very difficult decision to leave the Scottish FA, especially after the success of the Women's Team reaching their first-ever FIFA Women's World Cup. However, after seeing for myself the caliber of people working and playing at Rapids Youth, it was a move that my family and I were delighted to realize. Soccer in the US continues to grow and thrive at all levels and I hope that as the Club's Technical Director I am able to support the staff as they continue their excellent work."
We couldn't be more excited to have Donald join our Rapids family in this integral role and eagerly await his leadership at the Club this fall!
Donald and his family recently moved to Colorado from their home in Hamilton, Scotland and are currently settling into American life. With 16 years experience working in soccer professionally and a lifetime of passion for the game, Donald has welcomed this new, overseas challenge with an open mind and the desire to build something truly special at Colorado Rapids Youth Soccer Club.
Donald's career began in Scottish soccer, where he would move through the ranks of the Scottish Football Association, before eventually becoming the Head of Girls' and Women's Football in 2016. The titles that Donald has held within the Scottish FA include Football Development Manager, South West Girls 16U Regional Performance Head Coach, Pro-Youth Education Manager, and Girls' and Women's Development Officer in the South West Region. His study of the game, outside of the Scottish FA, includes completing his degree in Advanced Football Management at the University of Lausanne and earning multiple UEFA licenses. Donald's journey has allowed him to view soccer development at every level and age in the country, as well as impact this development from his various roles.
For Donald, the move to Colorado Rapids Youth Soccer Club is an opportunity to focus his career on what he loves most about working in soccer: guiding the development of players and coaches. The Technical Director role will allow Donald to use his creativity and experience, both on and off the field, to help shape the next generation of soccer players through practical and strategic planning.
At CRYSC, Donald will work to:
Design the Club's curriculum and technical methodology,
Create a process for and oversee the implementation of this plan,
Assess key performance indicators,
Establish the characteristics and qualities of players, staff, and coaches,
Serve as a leader in building Club culture.
Donald and his tight-knit family of six look forward to exploring their new home next to the Rocky Mountains, getting familiar with the local culture, and starting the new season of Rapids Youth Soccer.