#RapidsEducate Recap: Sports Author & Speaker, John O'Sullivan
CATCH UP ON JOHN O'SULLIVAN'S LIVESTREAM FOR PARENTS, PLAYERS, & STAFF! BELOW THE VIDEO, BRIAN SHEEHAN SHARES HIS RECAP & THOUGHTS ON THE EVENT!
This August, Rapids Youth Soccer welcomed acclaimed author, speaker, and Founder/CEO of the Changing the Game Project, John O'Sullivan to Colorado for a week of coaches education events across the CRYSC regions! John O'Sullivan visited each of our CRYSC regions to present on important topics like the Club's Player Development Plan, creating a Let Us Play environment, and progressing your coaches' education journey. Every coach at the Club – from Parent Volunteers to Directors of Football – attended in-person, in their region, as a vital part of our coaches' education curriculum and preparation for the new season. Check out Let Us Play Director, Brian Sheehan's recap, thoughts on the visit, and what players, parents, and staff can take away from the John's presentation below.
RECAP: Coaches from all levels, ranging from volunteer recreational to high school elite, were in attendance, and John provided relevant nuggets of wisdom for everyone. John met with our South / Castle Rock region coaches on 8/25 and Central / North / Ft. Collins coaches on 8/26. Each night, John utilized his conversational approach to discuss what it takes to create the right environment for self-regulating players to flourish. Alongside co-presenter and CRYSC's coach education guru Mark Wilson, the two illuminated how fostering a positive environment is integral to the Club's player development plan.
BRIAN'S THOUGHTS: "Once again, it was great to see John in his element speaking to coaches and mentoring us all on our coaching journeys. Like players, every coach has a diverse set of needs and experiences, and it's impressive to witness John's ability to deliver relevant content for everyone. Specifically, John's ability to highlight the core facets of CRYSC's player development plan as essential to any young person's growth within the context of soccer was powerful. John inspires all of us as coaches to know our players, let them lead, and create a game realistic environment where players feel safe to take risks and be brave."
LINK TO LET US PLAY: As a Club embracing the Let Us Play philosophy, John's messaging isn't just relevant for coaches, it's an incredible teaching tool for parents, families, and spectators too! Let Us Play is a Club-wide commitment to foster an environment where players grow in confidence as masters of their own on-the-field decision-making. Rapids members at every level honor the Let Us Play commitment through positive cheering, civil sporting conduct, and deep appreciation for the ways performance and enjoyment are connected. Parents and spectators alike can check out John's activity using the Stroop Test here (1:14:53 – 1:19:10) and get an inside look at how fans and spectators can either help or hinder a player's journey toward self-regulation.
*A slide from John's presentation, highlighting a crucial part of our role in a player's development: creating the right environment to grow!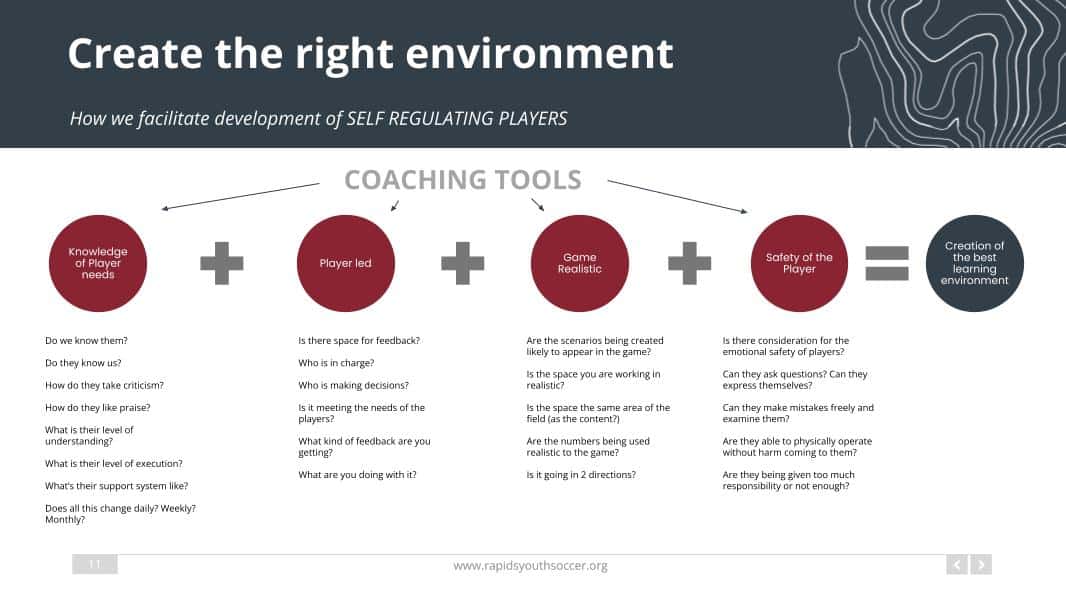 Philosophy: John O'Sullivan built his career creating player-centered environments to better work with players and their families on sport-specific development. He is an expert on the teacher-student, mentor-mentee relationship and has shared his knowledge with professional and youth soccer clubs across the nation. A core question at the center of John's work with coaches is, "What does it feel like for your players to play for you?" With a focus on reflection and empathy for the players experience, his message benefits anyone in a mentorship role on and off the field. His philosophies parallel and reinforce the CRYSC Let Us Play campaign that seeks to educate parents and coaches on ways to foster an enjoyable, learning environment through positivity and picking the right time for "teaching moments". We are proud to have John as a national advocate of Let Us Play and look forward to advancing the campaign together this August!
Achievements: John O'Sullivan is the author of two #1 bestselling books on youth athletics; "Changing the Game: The Parents Guide to Raising Happy, High Performing Athletes, and Giving Youth Sports Back to our Kids" and "Every Moment Matters: How the World's Best Coaches Inspire Their Athletes and Build Championship Teams". John's work has been featured by CNN, Outside Magazine, ESPN, NBC Sports, and other media entities. He is an internationally known speaker for coaches, parents, and youth sports organizations, and has spoken for TEDx, the US Olympic Committee, US Soccer, USA Wrestling, USA Swimming, Ireland Rugby, Australian Rugby League, and at numerous other events throughout the US, Canada, Asia, Australia, and Europe.
History with CRYSC: John O'Sullivan is an exemplary friend and partner of the Club. Last year, John joined the CRYSC Big Wave Jamboree as the featured speaker and presented to attending coaches on the development and identity of players 9-12 years old. You can check out that presentation in full by clicking here! Prior to that visit, he joined CRYSC in 2019 to lend us his expertise and speak to coaches, parents, and staff at The Eddy. It has been a pleasure working closely with John for the past three years on education events, podcasts, team-building retreats, the Let Us Play campaign, and more!
What Impact Can John's Message Have?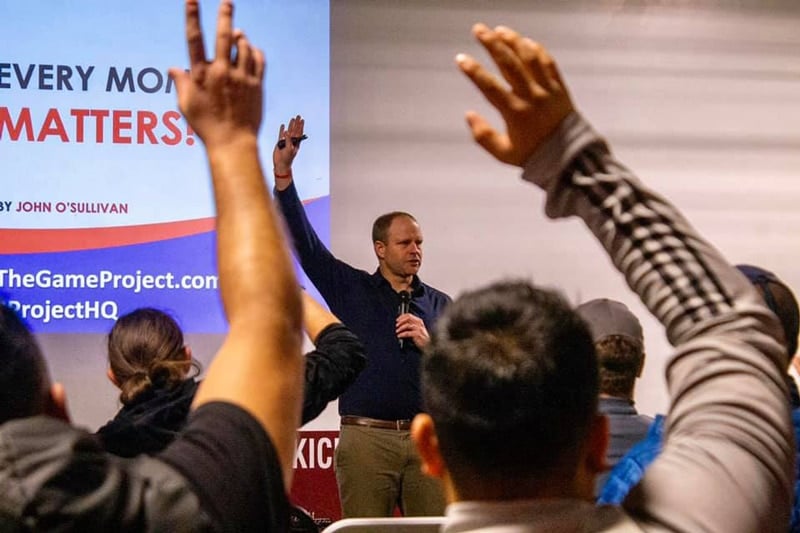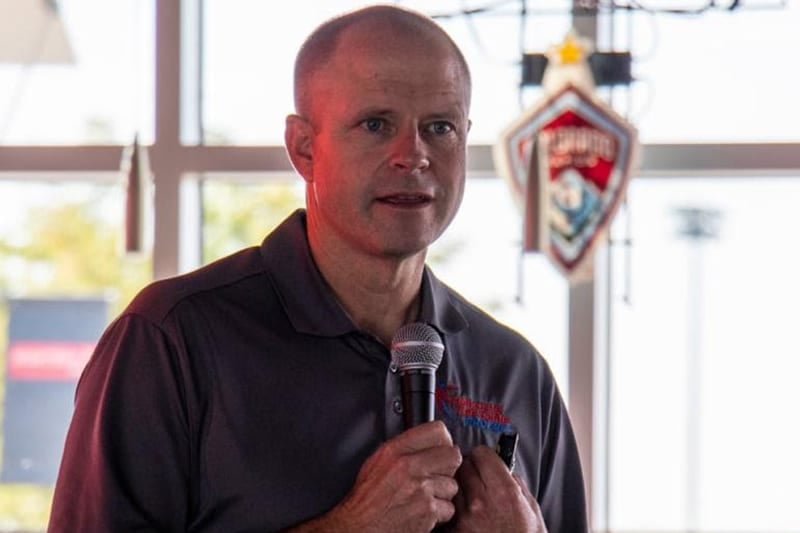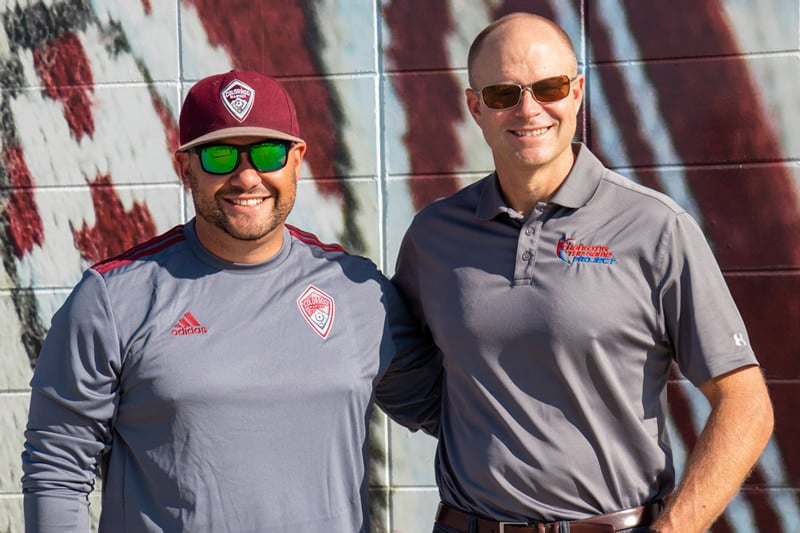 From declining referee participation to players dropping out of the sport entirely, there are a broad range of issues that can be traced back to poor experiences and a resulting diminished passion for the game. When a participant at any level of soccer feels isolated, vulnerable to verbal or emotional abuse, disconnected from their mentors and peers, or even just stops having fun, there has been a failure in the systems that are supposed to provide support. It is the job of coaches, parents, staff, etc… to make the fields a place for positivity and learning, while fueling a lifelong passion for soccer.
The experiences we have are shared and shape the way that we view the game. John's question "What does it feel like for your players to play for you?" distills that idea for coaches, but can be put back on all of us – what is your impact on the game?
Below are a few stats and facts that highlight why we need more empathy in the game and the value of John's philosophy. While reading them, ask yourself how many could be changed by one true connection with a coach, one moment of support over conflict on the sideline, one more friend on the team, etc…?
There are over 3 million 6-17 year old athletes that play for a youth soccer club in the United States learning under the guidance of 11,000 full-time coaches and over 500,000 volunteers and staff. Colorado is home for 75,000+ players and one of the fastest growing nationally.
Participation in "Team Sport on a Regular Basis" dropped from 41.4% in 2012 to 38.1% in 2018 to 37.8% in 2020, with 2022 data pending release.
The decline in the 6-12 year age group participation has been more significant than in the 13-17 year age group.
From 2018 to 2021, an estimated 50,000 high school referees across all sports quit – roughly 20% of the total workforce.
In a survey of 19,000 referees in 2019, 60% attributed their reason for quitting to verbal abuse, with 39% of participants saying that they've experienced issues with parents and 29% saying they've experienced issues with coaches.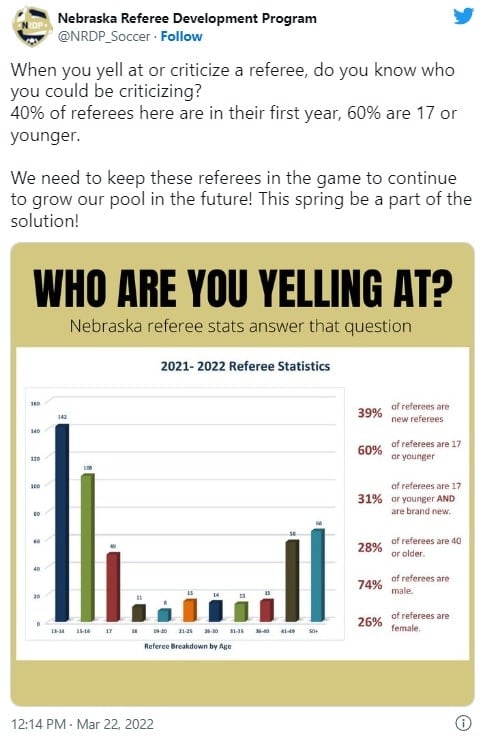 What is the CRYSC Let Us Play Campaign?
The Rapids Youth Soccer Let Us Play campaign is a Club-wide initiative to create a better sideline culture in Colorado and beyond. The ultimate goal of this campaign is to raise awareness among parents, coaches, and staff of their impact on players and teach them to be proactive in making every experience a positive or "learning" one. We're all here to have fun so LET US PLAY!
"The sidelines of every youth soccer game are lined with parents and spectators wanting their team to succeed. Fans communicate in many ways, from chanting and cheering to clapping. Too often this enthusiastic exuberance can come with shouting instructions and trying to coach from the stands (joysticking the players). As a club, we are committed to a positive player experience of learning and individual growth of our team members." – Brian Sheehan, Director of Let Us Play
In all Rapids Zone 1 programming, parents, coaches, and CRYSC staff commit to fostering an environment where players grow in confidence as masters of their own on-the-field decision making. To honor this commitment, all parents, coaches, spectators, and staff are encouraged to take the 'Let Us Play!' Pledge during the season.
For any questions on Let Us Play, visit the website or contact us at [email protected].