CRYSC to Open 41,000 sq/ft Indoor Facility
At Rapids Youth Soccer, we pride ourselves on being at the forefront of soccer developments, from small-sided games, to pool systems, and now to small-sided / futsal training. This year, we are taking our programming to the next level in our quest to provide the most robust soccer training in Colorado, and in the nation. We are pleased and excited to announce the opening of a 41,000 square foot indoor training facility specifically for CRYSC players, scheduled for August 2017. Located just a few blocks away from Lowry Sports Park, the new facility will provide members with the most robust, soccer-centric, youth training in Colorado. 
"Our members have been asking us to provide a Rapids facility for years," said CRYSC's Executive Director, Aaron Nagel. "With the current growth and momentum our programs are showing, we felt now was the time to deliver."
The indoor facility will provide an innovative, full, 360-degree picture of the game of soccer for each of our players through a variety of new programming opportunities. Within this new space, we will be able to continue to create a fun and well-rounded experience for players by providing them with on-field training, off-field classrooms, SAQ (speed, agility, quickness) training, injury recovery and prevention, weight training, and cutting edge soccer technology within the 41,000 sq/ft facility. Rapids Youth Soccer players will have access to the facility year-round, with our Competitive teams training in the facility part-time in-season and off-season.
"What's most unique about this opportunity is that it serves every player, from offering beginner programs for toddlers to elite athlete training for players in the national team pool. It enables us to better build on the high-quality programming already being offered by the club," said CRYSC's Director of Coaching Andrew Kewley.
CRYSC Board of Directors recognized the importance of this milestone, stating, "Access to playing fields is the greatest strategic challenge we face as a club. This facility serves as an important step as we work to implement our long-term plans to address this issue. We are equally excited about the technical, cultural, and community-building opportunities it will bring by having a home for our players, staff, and families."
Read the Full Press Release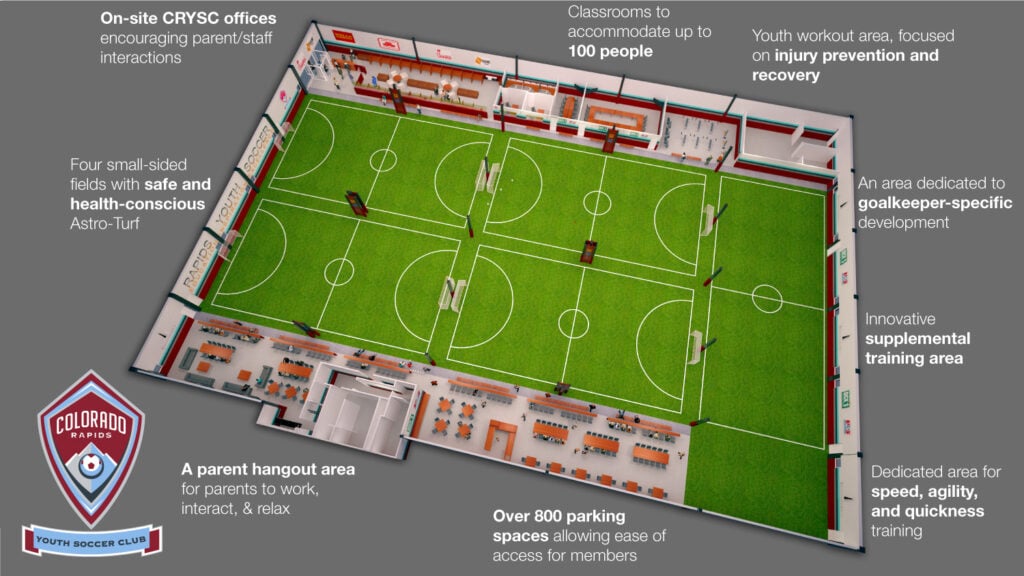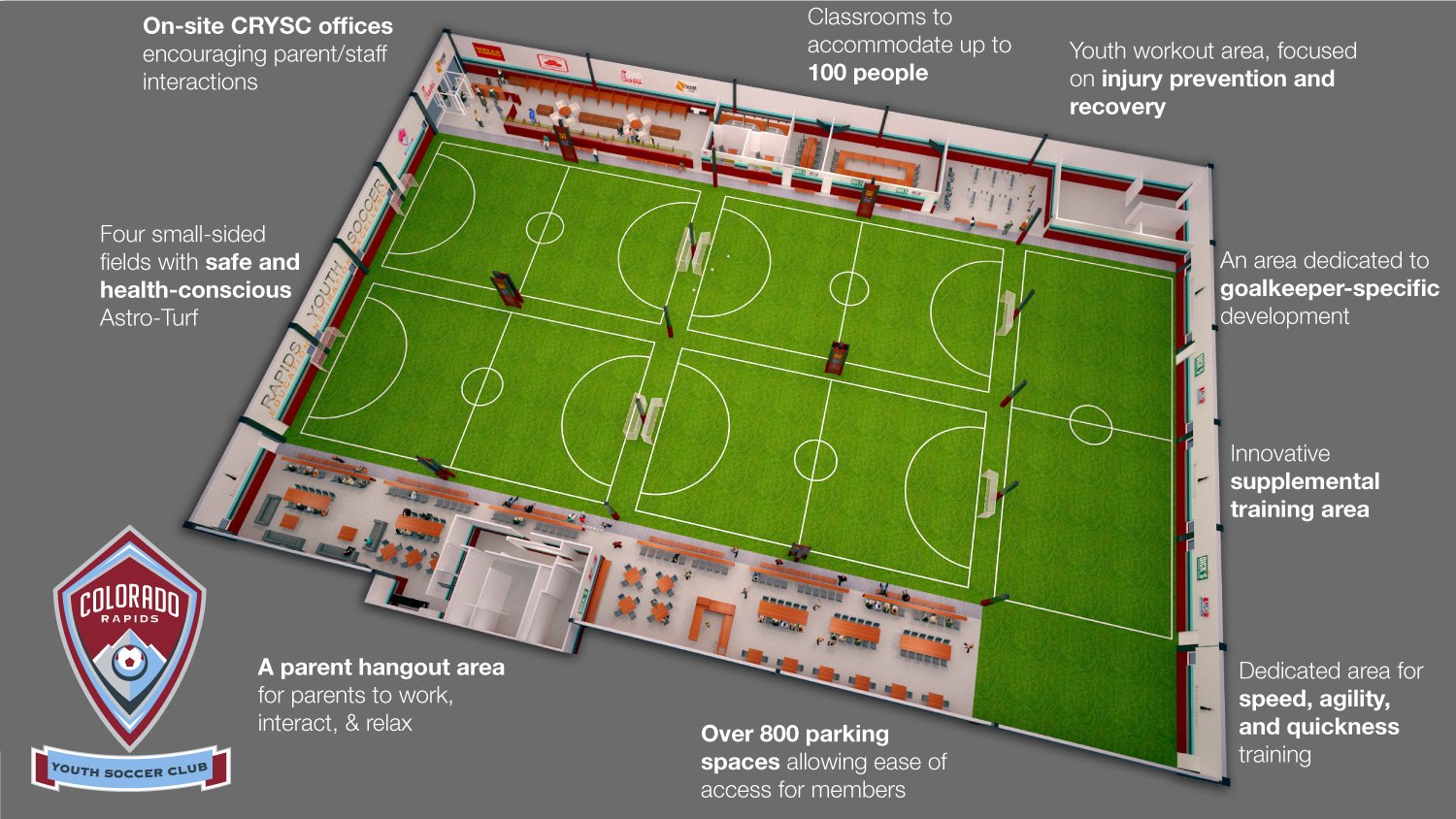 Planning for the Future
In addition to serving as the new home of CRYSC, the indoor facility is step one in a long-term plan for addressing the issue of playing fields. Access to playing fields gets harder each season and we believe we need to move in a direction where we have more control of our inventory of fields. To accomplish this, we will continue to pursue new development opportunities while also taking steps to make this indoor facility the best possible for our club. Funding our long-term plan for this facility and future developments will require supplemental funding which we will pursue through a range of ways including a capital campaign, an annual fund raising event, sponsorships and other ways. We look forward to sharing more on these fronts in the near future.
Explore the Facility Layout
Each area of this innovative new facility was designed with member benefits in mind. The Colorado Rapids Youth Soccer Club Indoor Facility will not only benefit players, but also parents, coaches, full-time staff, referees, and community members. 
Four Playing Fields:
The central feature of this new indoor facility will be the four small-sided fields housed within the building. We've selected quality and health-conscious Astro Turf for these playing surfaces, to provide players with the best possible training experience. These four fields are designed to give players of every age and ability level the opportunity to develop at the pace and level that is appropriate for them, while enjoying soccer in a safe, fun, and controlled environment.
Weight Training / Injury Prevention & Recovery:
With the addition of weight training into our Competitive program, our players will now have the added advantage of variations within their training regimen and the ability to focus in on specific training. Through the development of core strength workouts, balance, and flexibility, we will work not only on strength building, but injury prevention and recovery.
Classrooms:
As much as we train the player's bodies to perform, we also need to train their minds. With a dedicated classroom that will be integrated in our Competitive training model, Rapids Youth Players will get the opportunity to watch, break down, analyze, and enjoy discussing the intricacies of the game with some of the nation's top coaches. Working several classroom hours into our Competitive training environment each season allows our players to develop healthy discussions surrounding the game of soccer as well as forge personal and team growth.
CRYSC Offices:
Moving the CRSYC offices to the indoor facility allows our staff substantial access to our players for better involvement, monitoring, and evaluation, as well as for our players and parents to have personal and one-on-one access to our staff. With opportunities to hold parent education meetings, pre- and post- season player evaluations, and team meetings, just to name a few, this area will be designed with a strong emphasis on player, parent, and staff interaction.
Parent Hangout Area:
Imagine being able to drop your child off at an indoor training or game, grabbing a cup of coffee or dinner from one of the food trucks outside and catching up on work or visiting with friends in 4,000 square feet of area designed to bring together a community of soccer enthusiasts. Our new home will allow parents to enjoy the soccer experience along with their player.
Agility & Quickness:
Agility and quickness training has asserted itself as an important foundation for development of well-rounded soccer athletes. We are adding a dedicated agility and quickness training area within the facility to implement specific training for our competitive teams. By including this focus within the CRYSC facility, we plan to harness the benefits of specific movement training for all our players.
Speed Training:
We've all seen the benefits of speed in soccer, not only in acceleration, but also in endurance. When soccer asks our players to run more than five miles each game, the players need the stamina and capacity to persevere. With speed training integrated into our Competitive training environment, the players will not only see the benefits in their playing ability with the Club, but with all sports they compete in.
Facility Location: 111 Havana St, Aurora, CO
Do you have a product or service that you'd like to align with the facility and Rapids Youth Soccer? We would love to connect with you. Thousands of players and their families will be rotating through the facility every week, and we want to provide them with a valuable experience. Your business idea could help us provide the ultimate sports facility.
Potential partnership areas include:
Bringing your personal training business into the CRYSC

facility

during the week.
Providing food trucks outside the

facility

for busy families to grab lunch or dinner.
Running other youth or adult focused sports in the

facility

.
Bringing in your chiropractic, massage therapy, speed training, coffee shop business into the

facility

.
Let us know about your partnership idea! We'll be hosting a partnership day in May to provide tours to those interested in learning more about the facility.