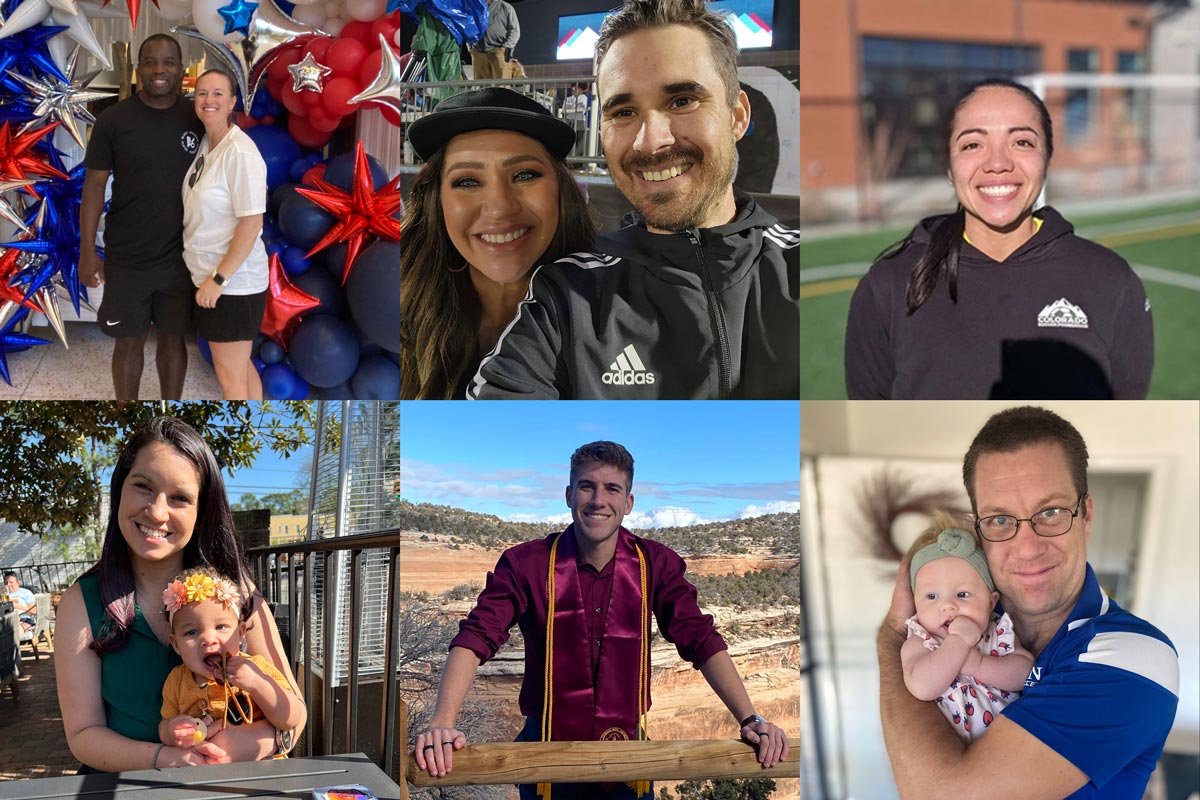 From left to right, top to bottom: Michael Balogun, North Regional Technical Director, Josh Beaty, Castle Rock 9U – 12U Boys Director, Karol Bird-Gomez, Fort Collins Recreational Director, Stephanie Reddick – Central Regional Manager, Colton Shafer, Central Assistant Competitive Administrator, Brian Sheehan, Central 8U-10U Recreation Director
Every May, my timeline and inbox are flooded with mental health and wellness stats, infographics, and resources. After all, May is Mental Health Awareness Month, and the importance of mental health, especially in today's world, is undeniable. I have found, though, that the facts and figures (as significant as they are), often lack power when it comes to making people truly care about mental health; when it comes to motivating people to make changes and take action, which ultimately lie at the heart of promoting and protecting our mental wellness. 
So, I have no data for you today. No definitions or citations. Instead, I have six strong, honest, open voices eager to share their own personal thoughts and experiences with mental health. I feel incredibly grateful that these Rapids staff members, with different backgrounds and experiences within and beyond the game, trusted me with their stories, and I urge you to read them. While they aren't as simple and clean as a one-pager fact sheet, I hope this look beyond the numbers gives you truer pause, makes you think, and moves you to take action.
Why is it important to talk about mental health?
Michael: No person can be healthy without factoring in this part of their health. I can be physically healthy and in the best shape of my life, but if I'm not in the right mental state, great I've got a 6-pack but I'm not really healthy.
Josh: I lived so many years of my life keeping everything in. As I've gotten older, I've realized that taking care of myself mentally – finding someone to talk to and being able to express my feelings – really changes everything; not just the way that you look at yourself and look at the world but also your physical health. 
Colton: I've always thought it's a really important aspect of life in general, and I don't think people talk about it enough. I go to therapy and I'm very open about it, because I want everyone else to be comfortable sharing their experience, because mental health is sometimes really hard to improve on your own, and having poor mental health can affect every aspect of your life.
Brian: The more it's talked about, the more the subject is normalized, the more people are able to come to terms with the ways in which they grapple with their own mental health. If it's not normalized, then it's tougher to talk about it, and if it's tougher to talk about then it becomes tougher to deal with.
Steph: It's important because a lot of people don't focus on it; they focus more on the physical aspects of life in general and not the mental emotional side. Especially because we work with young children, it's important to draw attention to it so we can help them find resources and support through all aspects of their lives.
Why should athletes, specifically, care about mental health?
Josh: Everything we do in soccer comes from our mind; we just use our bodies to play the game. Ultimately, emotion is at the center of sport; we don't just play it because it's something to do. We have this visceral feeling of love and passion for it, and with that comes spikes of emotion that aren't always helpful to learning and growth, and that kids don't know how to regulate. So, as coaches, looking at a player as just an athlete is very outdated. To help a player develop physically, to help them stay in the game and be creative and adventurous and be challenged and improve, all starts with their mental wellbeing.
Karol: Sport is very much performance / feedback; you make a good pass, you make a bad pass. You score a goal, you don't score a goal. Kids are constantly getting information about how they are performing, but we need to educate more that the constant feedback you get on the field does not reflect your value as a person. It's just something that you do. We need to support athletes in becoming more self-aware, so that the feedback that they walk away with after missing a shot isn't "I suck", but instead is "Since the ball went wide, my hips must've been turned this way, so if I turn them this way instead I'll get a different result." If we don't do that education as coaches, the constant feedback kids get within sport can be really damaging to their mental health.
Steph: Back when I played, 10 – 15 years ago, mental health wasn't even on anyone's radar. As someone who focuses on my mental health now, I realize that there are experiences I had when I was a kid playing soccer that I didn't know how to work through, then, and now shape who I am as an adult. It's hard when you're in this environment; pressure, play time, coach reactions to mistakes, parents yelling on the sideline, those things seem so little but can actually be really detrimental. So I think if we talk about these pieces and how they can impact mental health, we can shape the landscape a little better for our kiddos.
Colton: Another thing we don't talk about enough is how hard it can be when you're done with sport. I ended my college career in October, and the transition has been really tough. Soccer has been my main focus since I was three. You go from being an athlete everyday and with a team everyday and it's gone right away. It was a bit of an identity crisis; figuring out what to do in my life, other things I enjoy, even how to make friends. A lot of people go through it, but we don't talk about how hard it is. It's harder than people think, and it's really important to know while you are playing that you are someone outside of soccer and that you have other interests.
What do you do to look after your own mental health?
Steph: Therapy for sure has been game changing for me. What's also been really helpful to me in the workplace, especially this time of year, is asking for help and saying no. Lately my main focus has been on self-care; I'll get my hair done, get my nails done. I go on thirty minute walks every day to get outside. I practice a lot of positive self-talk and work to channel my nurturing voice. In my life right now I've had a hard time and lost a lot of love around things like playing soccer and working out, so it's really about taking baby steps and giving myself grace and being kind to myself. 
Colton: In addition to therapy, I journal a lot. At one point I had so much going on in my brain, and setting aside time before bed to journal allowed me to just get those thoughts out. I know it can be hard to set aside time, but I knew I needed to make it a priority because if I didn't journal I was going to be stuck in this very negative mental space and then tomorrow was going to be another bad day because I hadn't gotten all of these things out of my mind. So, while some things could wait until tomorrow, journaling wasn't one of them at that point.
Brian: As a matter of best practice, I've seen a counselor for a long time and also have a spiritual director. One of the things I've been made attuned to in recent history is that taking care of oneself from a corporeal, physical standpoint is hugely important. Exercise for me is a non-negotiable. Paying attention to nutrition. Being a new father, taking time to rest and building naps into my schedule is a really big thing. 
Michael: One thing that I don't think is talked about enough with counseling is that it can take time to find the right person that you vibe with. The first time I met with a counselor I didn't realize that, and I was kind of put off from it because they weren't a good fit. So I think it's really important to know that it can take time to find the right person to walk you through whatever you're going through at that time. 
Josh: When I'm going through something I talk to my wife and other people in my life that offer different viewpoints and perspectives. I do a lot of reading to relieve stress and educate myself on tools that I can use. I use creative outlets like writing songs or painting to get my thoughts and feelings out. The biggest thing for me is trying to find the why behind my thoughts and feelings. When I know where a reaction stems from, I can recognize it in the moment and then use small bits of self-talk to work through it and feel more like myself.
Karol: I'm learning to breathe. I remind my athletes all of the time, when you're tired when you're stressed when you're happy when you're sad, remember to breathe. What has really helped my mental wellbeing, going back to being self-aware, is being less judgmental. I love the idea of stoicism, where you get hit with an energy – whatever it is, positive, negative – and instead of acting on those emotions, you let them settle and observe them. I've learned that mindfulness through meditation. I meditate every morning for 5 or 10 minutes, and it has been really helpful.
What do you want CRYSC athletes to know about mental health?
Michael: You are not healthy if this part of you is not well looked after. As an athlete, spending time on the field means the physical side of your health will be addressed, but you also have to be conscious of the mental side. Make an effort to put time into being mentally healthy as well as physically healthy, and know that – just like physical health – what works for someone else might not work for you. Figure out what "mentally healthy" means for you, and do what you need to do to take care of it.
Steph: That it is important, and that it doesn't have to be reactive. We focus so much on when something goes wrong, then I need to get help. I've seen that in myself, too. But things don't have to be going really wrong for us to focus on ourselves and our emotional well-being. We can, and should, be proactive in doing that too!
Colton: It's ok to talk to people about your problems. Guys, especially: We tend to not talk to people about our problems, and we should! Your friends, your coach, anybody – find somebody to talk to. It's so good to do. And then, at the end of the day you have to be the one to help yourself, so be willing to do that work and show up for yourself.
Brian: Don't create a dichotomy between your performance and mental health. These are not two things that need to be separate. It's not like, hey go perform over here and on the side take care of your mental health. Understand that your performance is wrapped up with your mental health, and to take care of one in the truest sense is to take care of the other.
Josh: Be yourself, and work on being ok with being yourself. Try not to let external forces determine your happiness. Allow yourself to feel what you're feeling, and then be willing to talk about how you're feeling with someone you feel safe with. 
Karol: You live your whole life inside of your brain, so make it a really really good place to be.
Our staff agree: Taking care of our mental health needs to be a priority. While tending to our mental health is certainly beneficial to us as performers (on the field, in the classroom, or at work), the benefits to our overall health and happiness as people is paramount. With that, and the wise and vulnerable words of our staff fresh in our minds, I challenge all of us to make an intentional, daily, commitment to prioritizing our mental health beyond the month of May. In doing so, not only will we find ourselves living deeper, more authentic, and more fulfilling lives, but we will also be doing our part to make our world a kinder, safer, more joyous place to be.
Eager to hear more from our staff? Open the tabs below for their full thoughts on mental health awareness and action!