The Rapids 08B EDS Team Visits Argentina
Posted by: Diego Cerro, Director of Recruitment & Development
This July, our Rapids 08B EDS team ventured down to Argentina for 10 days of competitive soccer, discovering the local culture, and learning how the beautiful game is experienced in a country that is rich in soccer history and home to some of the best players in the world!
Over the course of their travels, the 08B EDS team played 9 games against some of the top professional academies in Argentina, including Boca Juniors, Banfield, Velez Sarsfield, and more. The trip was led by Argentina native and Rapids Youth Soccer Club's Director of Recruitment & Development, Diego Cerro, who was able to provide our players with direct insight into how competitive, historic, and passionate these clubs are and how their players have dedicated their lives to the sport.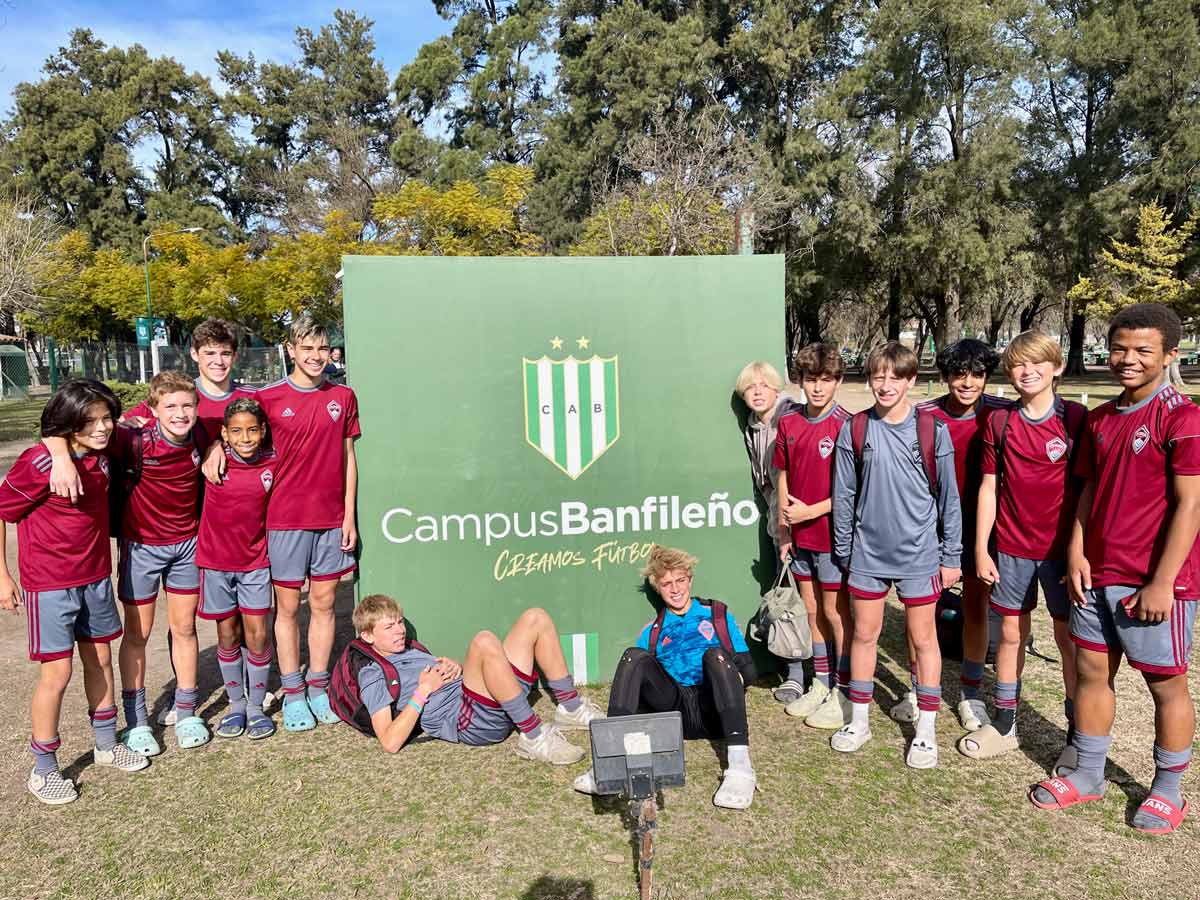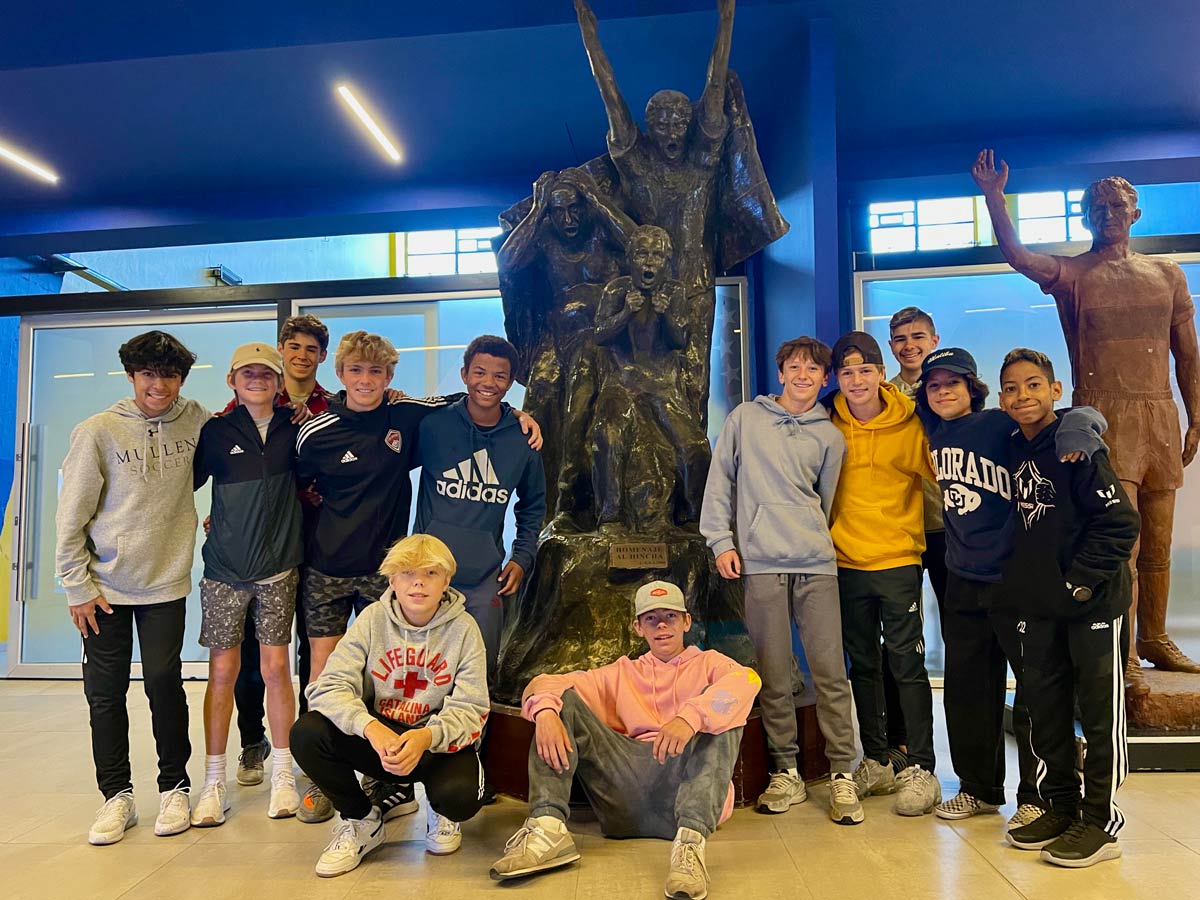 Coach Diego's Reflection on the Trip
Coach Diego's highlight of the trip was touring the Argentina Federation Complex (AFA) and training grounds, the famous Boca Juniors Stadium, and Museum. According to Diego, very few have had the privilege of entering these facilities. Along with getting exclusive access to these places, the boys were also able to meet famous World Cup Champions, most notably Oscar Ruggeri (pictured second from left), a defender on the 1986 World Cup Champion Argentina National Team. In Diego's view, "It was a great opportunity for the kids to experience what it is like to play in a country that eats, breathes, and sleeps soccer."
Argentina is known for developing some of the best players in the world and exporting the most players at the professional level, a statistic that Argentinians are proud of. Players like Lionel Messi and Diego Maradona all started at a young age in Argentina and quickly rose through the ranks to become some of the best players of all time – a perfect example for our Rapids 08B EDS players who aspire to take their game to a higher level one day.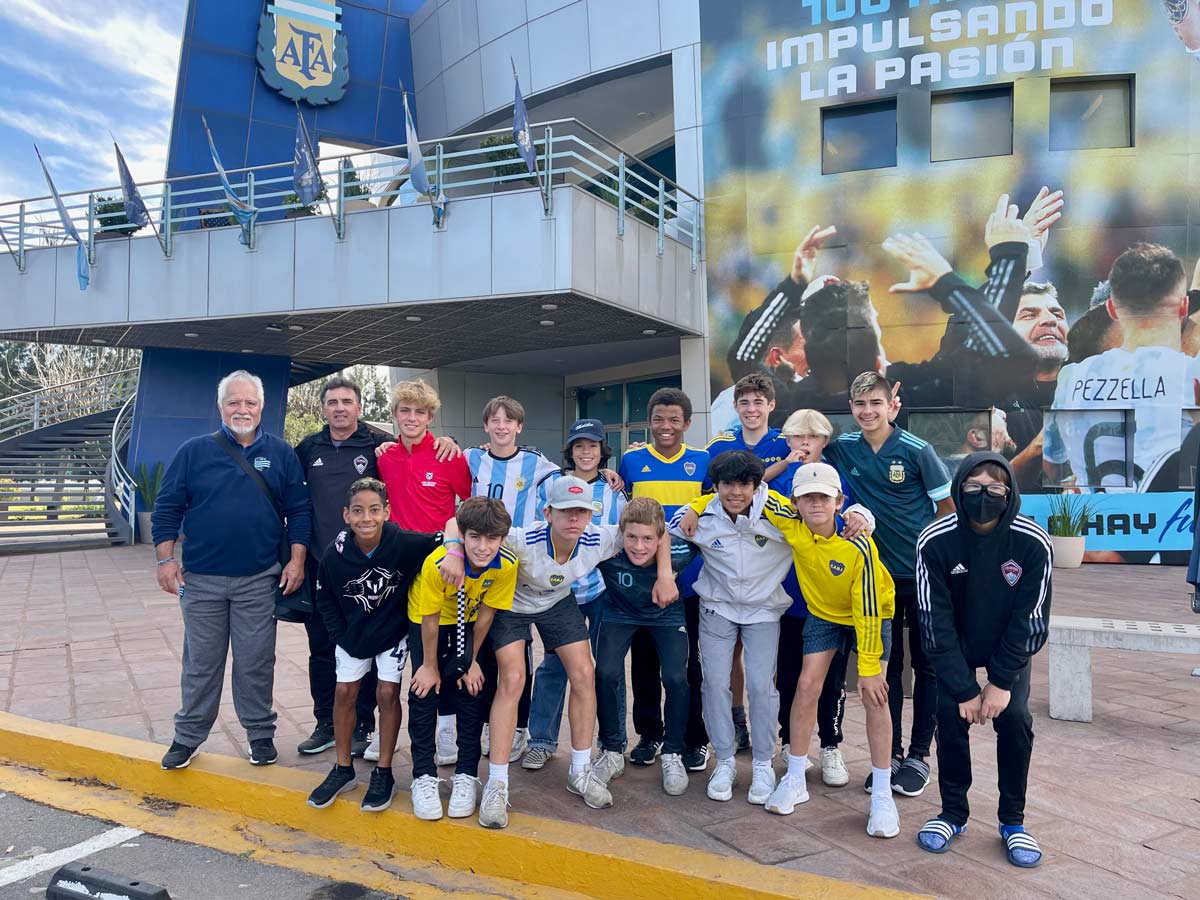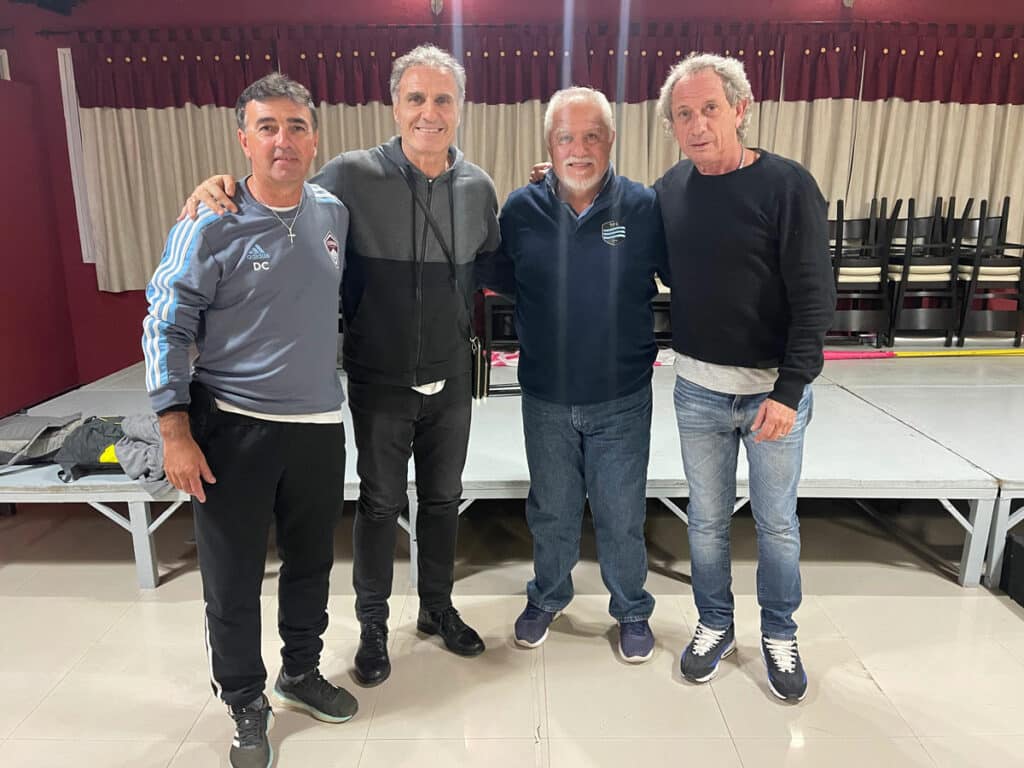 The Team's Reflection on the Trip
At the end of the trip, our 08B EDS team was asked to fill out a survey describing and outlining their favorite aspects of the trip. These questions involving all aspects of the trip, including soccer, soccer facilities, the food they ate, and Argentinian culture. Their responses were generated into word clouds below!
What did you think of the food?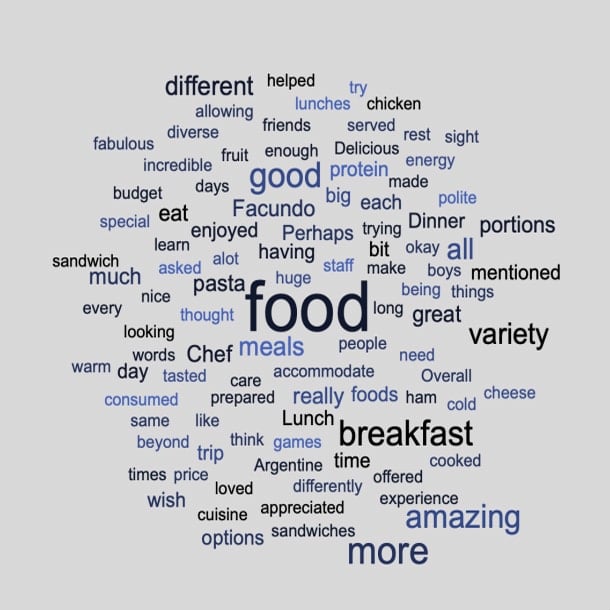 What did you think of the facilities you played at?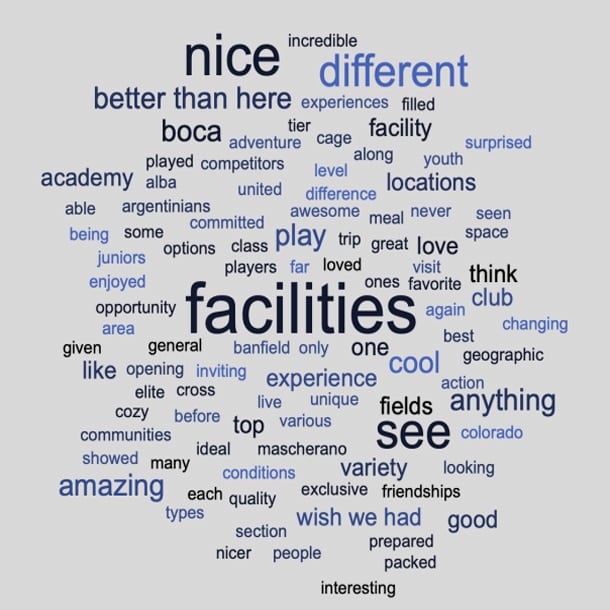 What did you think of the level of play?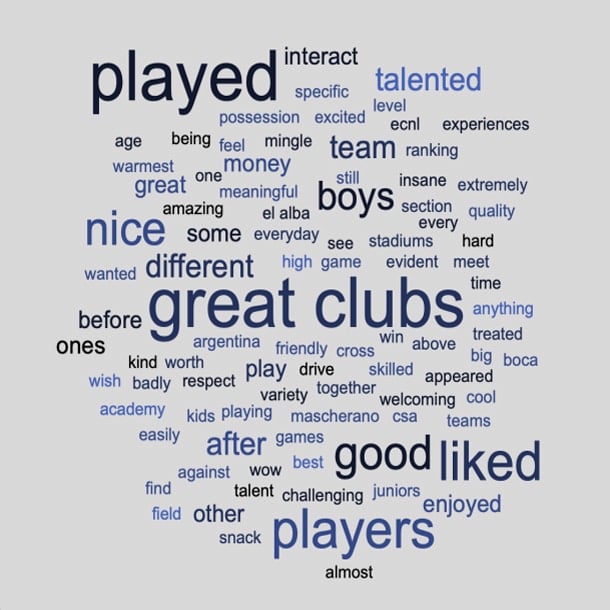 What was your most memorable experience?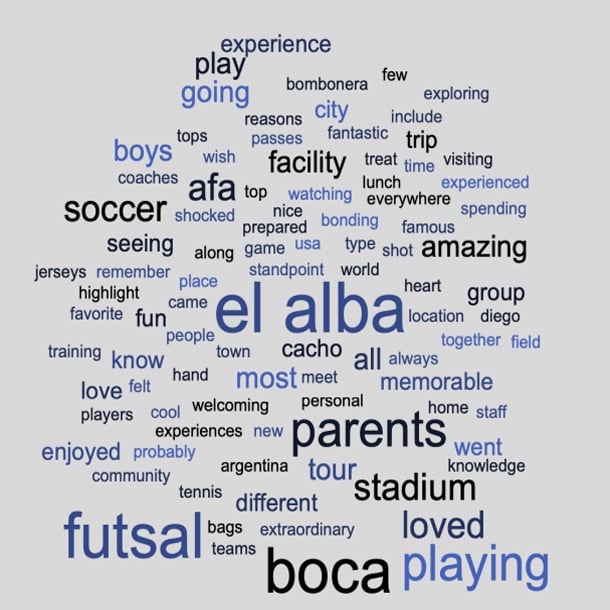 CRYSC International Tours are a great way for players to experience soccer through the lens of a different culture! From playing local competition, experiencing different environments, and seeing new sights, there's so much to be gained from expanding one's horizon and taking your game abroad. We encourage anyone looking for an unforgettable opportunity focused on travel and soccer to sign up for the perfect trip with CRYSC international!
Interested in learning more about the trips we are offering in 2023? Click here to find out more!