The Growth of Youth Futsal in Soccer Leagues
Posted by: Liam Murphy | Director of Soccer Operations
Futsal is one of the fastest growing sports for soccer players, coaches, and clubs. Over the past few years, youth futsal has proven to provide unique and positive development of its participants, especially during the winter off-season. This season, we offered futsal for our players for the first time during the winter off-season. As we take the step to incorporate futsal into our programming, we want to explain why we have chosen to focus on youth futsal instead of indoor walled soccer.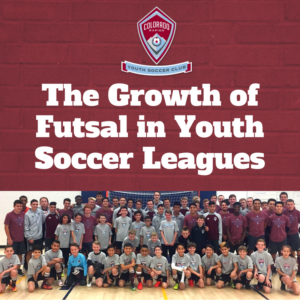 According to U.S. Futsal, "the history of futsal can be traced back to Uruguay in 1930 when a version of a five-a-side game was created in a YMCA. The term 'FUTSAL' is the international term used for the game. It is derived from the Spanish or Portuguese word for "soccer"– FUTbol or FUTebol, and the French or Spanish word for "indoor" — SALon or SALa."
There are some distinct differences between futsal and soccer. In futsal, the ball has 30% less bounce than a normal soccer ball. In addition, there is no slide tackling, no off-sides, and you are allowed to substitute players on the fly while the game is being played. Many players appreciate the continued momentum futsal games offer, whereas in soccer, the momentum of play is stopped while substitutions are being made. As futsal is fast and action packed, players improve their fitness while learning and having fun. We find children love playing futsal because it is exciting: many goals can be scored and many subs are made throughout the game without slowing it down.
Furthermore, playing futsal allows you to touch the ball nearly twelve times more than playing outdoor soccer. This is a huge benefit to youth soccer leagues, as we believe that the more touches players have on the ball, the more they enjoy and develop in the game. U.S. Futsal suggests that, "futsal motivates players in an environment that is conducive to learning. The more pleasure kids find from their participation, the more they wish to play and practice on their own. While their instinct to play is natural, their appreciation for soccer must be nurtured."
According to a FIFA report, "an average 40-minute futsal game, a player will touch the ball roughly every 29 seconds, or 80 total touches." Now compare that to a 90-minute outdoor soccer game where players only make around 30-40 touches. In futsal, players make double the touches in half the time. As a result, the game places considerable demand on technique, movement, and tactical awareness. Additionally, U.S. Futsal says that "futsal is therefore a great skill developer, and demands quick reflexes, fast thinking, and pinpoint passing. The speed of play is such that you are forced to make quicker technical and tactical decisions." The technical focus of futsal makes it a great addition to our offseason winter programming, as it keeps our players engaged with soccer while sharpening their tactical skills.
To learn more about futsal, visit the U.S. Futsal website. 
INDOOR FUTSAL LEAGUES