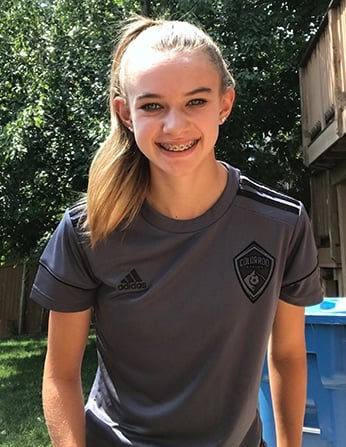 Brooke plays for the Rapids South 05G Select team as a defensive midfielder (#6) and is a fantastic representative of what it means to be "the heart behind the crest". Her coach, Kristina Corona Grimsley, describes her as "[…] a great kid all-around. She puts in the work in training and game environments. Brooke is an awesome example of what we look to create within our Rapids Youth Soccer environment. She leads through action and word while getting along with all of her teammates. Brooke is talented and hard working on the soccer field and in the classroom, but overall, she is dedicated to becoming the best version of herself."
This February, Brooke will be presented with a plaque and gift card to acknowledge her achievement, so watch the CRYSC social pages for more updates. We spoke with Brooke to learn a bit more about her and see what drives her game. Check out the full interview below!
What influence has soccer had in your life?
Soccer has influenced my life by giving me the opportunity to meet some of my favorite people who became my best friends. Soccer has also taught me what hard work is and how to push myself past the limits I thought I had.
Why do you believe that you were nominated for this award?
I believe that I was nominated because of my hard work and dedication to soccer, not only athletically, but academically as well.
What do you enjoy most about playing for Colorado Rapids Youth Soccer Club?
I love the community and environment at Rapids. Overall, the training environment is competitive and pushes you to become a better player. The coaches are also very dedicated to helping you succeed in the present and in the future.
What soccer accomplishment are you most proud of?
I am most proud of winning President's Cup in 2019 and getting to represent Colorado at the Farwest Regionals in California. We worked really hard as a team and persevered through challenges to make it to that point, and seeing the hard work pay off was very rewarding.
What academic achievement are you most proud of?
I am most proud of getting into Student Government and becoming the sophomore class president as a result of my leadership and good grades. It has given me the opportunity to make a positive impact on many people and grow as a leader.
How do you think your teammates would describe you?
I think my teammates would describe me as tough, determined, and positive.
What is something that shows your exemplary character, commitment to sportsmanship, community involvement, etc..?
I hosted a donation drive and collected money and soccer equipment to donate to The Colorado Soccer Foundation. I wanted to help underprivileged kids in my community have the resources to be able to play soccer, and I accomplished that by collecting equipment and money for them to have access to.
What's your favorite soccer player and team?
My favorite player is Julie Ertz because of her grit and skills both offensively and defensively. I look up to her a lot because she is the player I strive to be and she plays the same position as me.
What do you hope to pursue in the near future?
I hope to play college soccer and then continue playing soccer for as long as I can in the future. I am interested in business and marketing as well. I would love to someday combine my love of soccer and business to positively influence others.
Who inspires you and why? This can be someone famous or someone you know personally!
Carli Lloyd inspires me because she has such a great work ethic and she doesn't let doubters stop her from doing that she loves. She consistently perseveres and puts in the work day in and day out.
What else do you enjoy outside of playing for CRYSC?
Outside of soccer, I also run varsity cross country and play varsity basketball for my high school. I enjoy hanging out with my family, friends, teammates and dogs. I also work as a coach at Coerver Colorado, a soccer organization dedicated to helping players reach excellence, and I love doing that.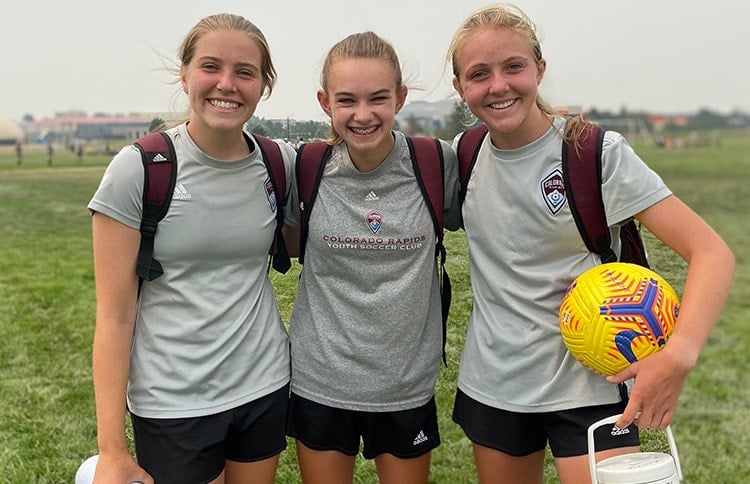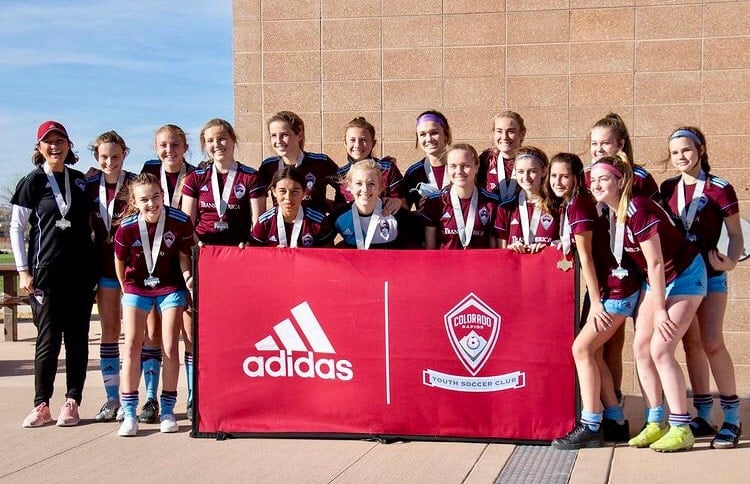 Since 2018, CRYSC and UCHealth + CU Orthopedics and Sports Medicine have worked together in an effort to grow the safety and health resources that are available for Rapids Youth players and members.
As our partnership strengthens with UCHealth, we want to work together to highlight the amazing players within the Colorado Rapids Youth Soccer Club with a monthly 'Player of the Month'. Check out the criteria and nominate any players that deserve to be highlighted by UCHealth and CRYSC on the UCHealth Player of the Month page.