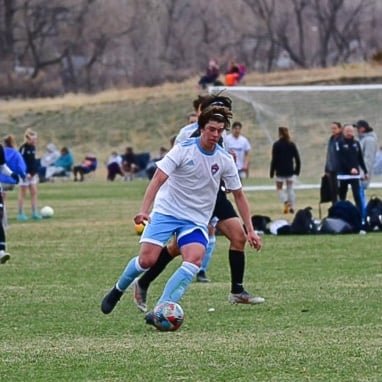 Courtney plays for our Rapids 04B Central Select team as a midfielder and captains the Grandview High School boy's soccer team! This year has been a special one for Courtney as he and his high school teammates helped lead the Grandview Wolves to their first-ever State Championship. he has been described by CRYSC coaches as, "A player that lives by his values. Respectful, loyal, hard-working, and humble. Courtney is one of the best leaders at the Club and is recognized as such by his teammates and opponents."
This June, Courtney will be presented with a plaque and gift card to acknowledge his achievement. We spoke with Courtney to learn a bit more about him and see what drives his game. Check out the full interview below!
What influence has soccer had in your life?
I have learned dedication, commitment, leadership as well as what it is like to be apart of a team.
Why do you believe that you were nominated for this award?
Although it was a surprise to me, I have been dedicated to the team and work hard in practice. I try my best to do what it takes for the team to win.
What do you enjoy most about playing for Colorado Rapids Youth Soccer Club?
Creating friendships and having an opportunity to play soccer.
What soccer accomplishment are you most proud of?
Winning a State Championship.
What academic achievement are you most proud of?
Earning a CSWP certification.
How do you think your teammates would describe you?
Willing to step in and help the team in any role, fun to be around on the field as well as off, and a leader by example.
What is something that shows your exemplary character, commitment to sportsmanship, community involvement, etc..?
I volunteer in my moms classroom working with special needs students and I hope to be a unified partner at Grandview High School next year.
What's your favorite soccer player and team?
Manchester City, Kevin De Bruyne.
What do you hope to pursue in the near future?
Engineering.
Who inspires you and why? This can be someone famous or someone you know personally!
My family, specifically my brothers and my parents.
What else do you enjoy outside of playing for CRYSC?
Spending time in the mountains (skiing, hunting, fishing, hiking).
Since 2018, CRYSC and UCHealth + CU Orthopedics and Sports Medicine have worked together in an effort to grow the safety and health resources that are available for Rapids Youth players and members.
As our partnership strengthens with UCHealth, we want to work together to highlight the amazing players within the Colorado Rapids Youth Soccer Club with a monthly 'Player of the Month'. Check out the criteria and nominate any players that deserve to be highlighted by UCHealth and CRYSC on the UCHealth Player of the Month page.