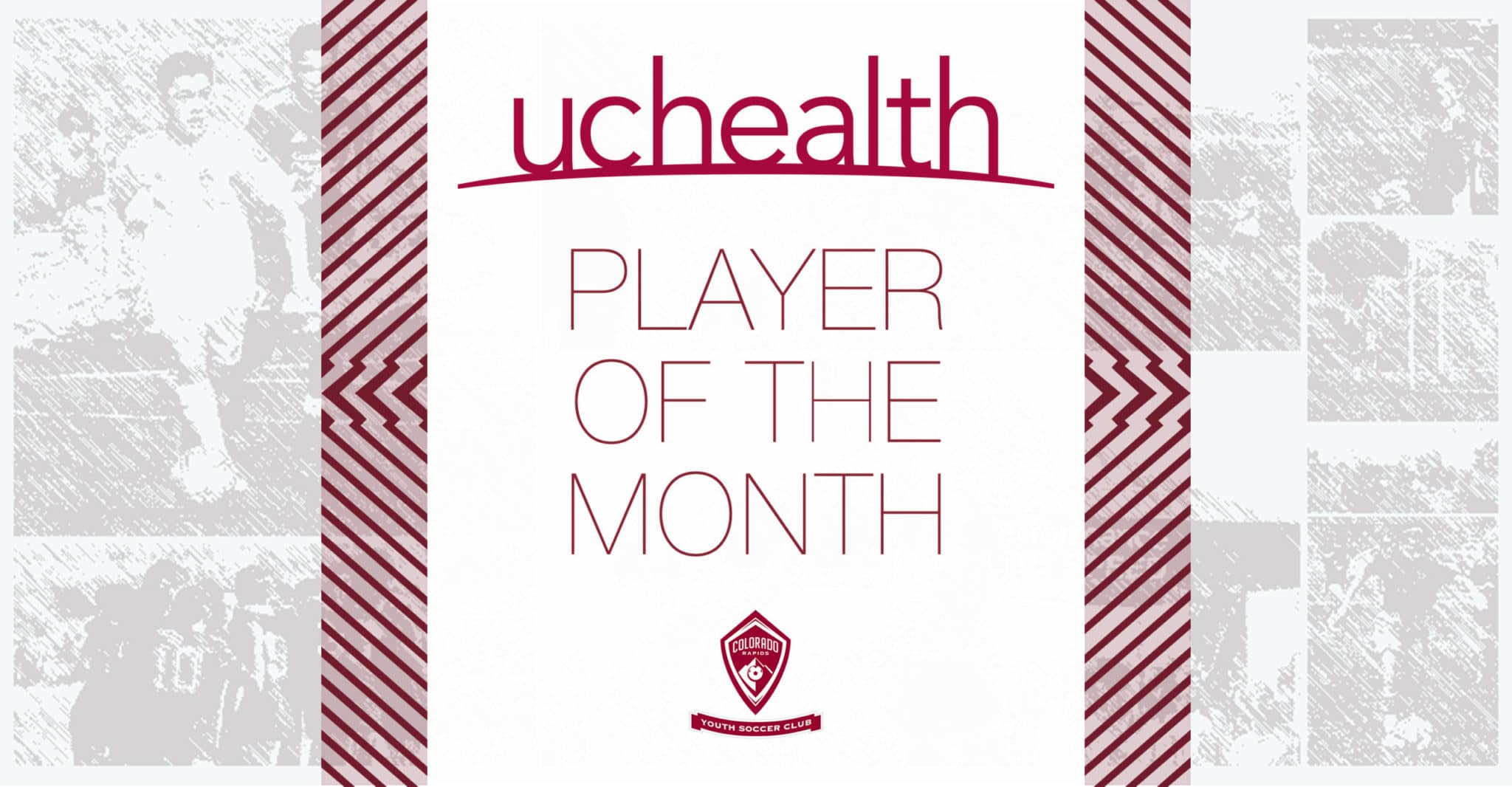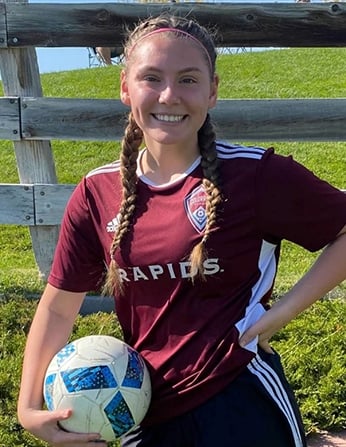 Jocelyn plays for our Rapids 04G Castle Rock recreational team and volunteers her time coaching 9U athletes! Since starting high school, she has captained her freshman soccer team and received multiple awards for academic excellence, showcasing her talent both on and off the field. Rapids Castle Rock coach Katie Beaudoin describes Jocelyn as, "…an amazing person. Not many Junior's in high school would volunteer to coach a team for an entire season. This takes up quite a bit of time, as they have two practices a week and games on Saturdays. She is a great role model for these young girls!"
This April, Jocelyn will be presented with a plaque and gift card to acknowledge her achievement. We spoke with Jocelyn to learn a bit more about her and see what drives her game. Check out the full interview below!
What influence has soccer had in your life?
I feel like my team is a second family! I really enjoy playing soccer and it has been a great way to meet other girls, let loose at the end of the day, and do a different activity outside of school.
Why do you believe that Jocelyn was nominated for this award? (Parents Response)
Because she is a team leader and a mentor and she is great at helping others learn about soccer. She is great at being a team captain, communicating with the team about any practice changes, games and more and helping out at practices. Jocelyn is her coach's sounding board for input on practices, what skills to practice and how to make the team better. Jocelyn is also very inclusive with new players to the team and mindful to make them feel welcome and also understand drills during practice. Her teammates and friends that look to her for guidance know that she will help out all she can in a positive way. "I have strong women in my life that have been so encouraging and taught me that I can do anything."
What do you enjoy most about playing for Colorado Rapids Youth Soccer Club?
As a player, I like that the CRYSC works with the coaches and teaches them new techniques, which helps us as players enjoy our soccer experience and learn more. I have been coaching a U9 girls team, so I see this first hand. There are more opportunities to learn and grow with this club.
What soccer accomplishment are you most proud of?
A few seasons ago our team was undefeated and that felt great! We are gearing up for that this season. I also really enjoyed coaching a U9 team for the first time last season (with the help of my dad) and having the girls ask me to coach them again!
What academic achievement are you most proud of?
I was the recipient of the Academic Excellence Award for outstanding grades. I really worked hard to get straight As and I did it!
How do you think your teammates would describe you?
Playful and welcoming. We like to have fun on the field!
What is something that shows Jocelyn's exemplary character, commitment to sportsmanship, community involvement, etc..? (Parents Response)
When playing a recent soccer game for a different team, a newer player on the team turned to Jocelyn and asked "which goal is ours?" In that moment, Jocelyn didn't judge, but explained the game in the few seconds before kick off and then continued coaching & giving advice during the game.
That coach named Jocelyn captain of this team for the same reason, teammates know they can look to Jocelyn for guidance and positive feedback.
Jocelyn has always been our responsible, caring little girl, and has a special way with kids – they love and listen to her! This has now translated into her volunteer coaching a U9 girls soccer team for the 2nd season. She loves to help out – kids and adults alike. From 1st Grade on, at school parent/teacher conferences, teachers comments were always "She is a pleasure to have in class, always willing to help out. Even to the substitutes!" By her 5th year, we got to laughing with the teachers because her conferences always began with, "I know you've heard this before, but Jocelyn is great."
She is involved in her community and has volunteered at Teen Court for the Town of Castle Rock and participated in the Polar Plunge for the last five years – plunging in the cold water and/or walking in the 5K to benefit the Special Olympics.
What's your favorite soccer player and team?
Rose Lavelle of the US National Women's Team and our local Colorado Rapids Team!
What do you hope to pursue in the near future?
Besides being a millionaire, I plan to go to college in-state. My top choice so far is UCCS.
Who inspires you and why? This can be someone famous or someone you know personally!
I am inspired by my Dad. He is always there for me, he supports me and on top of all he does, he has volunteered to be our soccer coach for the last eight years.
What else do you enjoy outside of playing for CRYSC?
I like to paint and do artwork, hang out with friends, ski, and play with my Great Dane pup, Skye.
Since 2018, CRYSC and UCHealth + CU Orthopedics and Sports Medicine have worked together in an effort to grow the safety and health resources that are available for Rapids Youth players and members.
As our partnership strengthens with UCHealth, we want to work together to highlight the amazing players within the Colorado Rapids Youth Soccer Club with a monthly 'Player of the Month'. Check out the criteria and nominate any players that deserve to be highlighted by UCHealth and CRYSC on the UCHealth Player of the Month page.