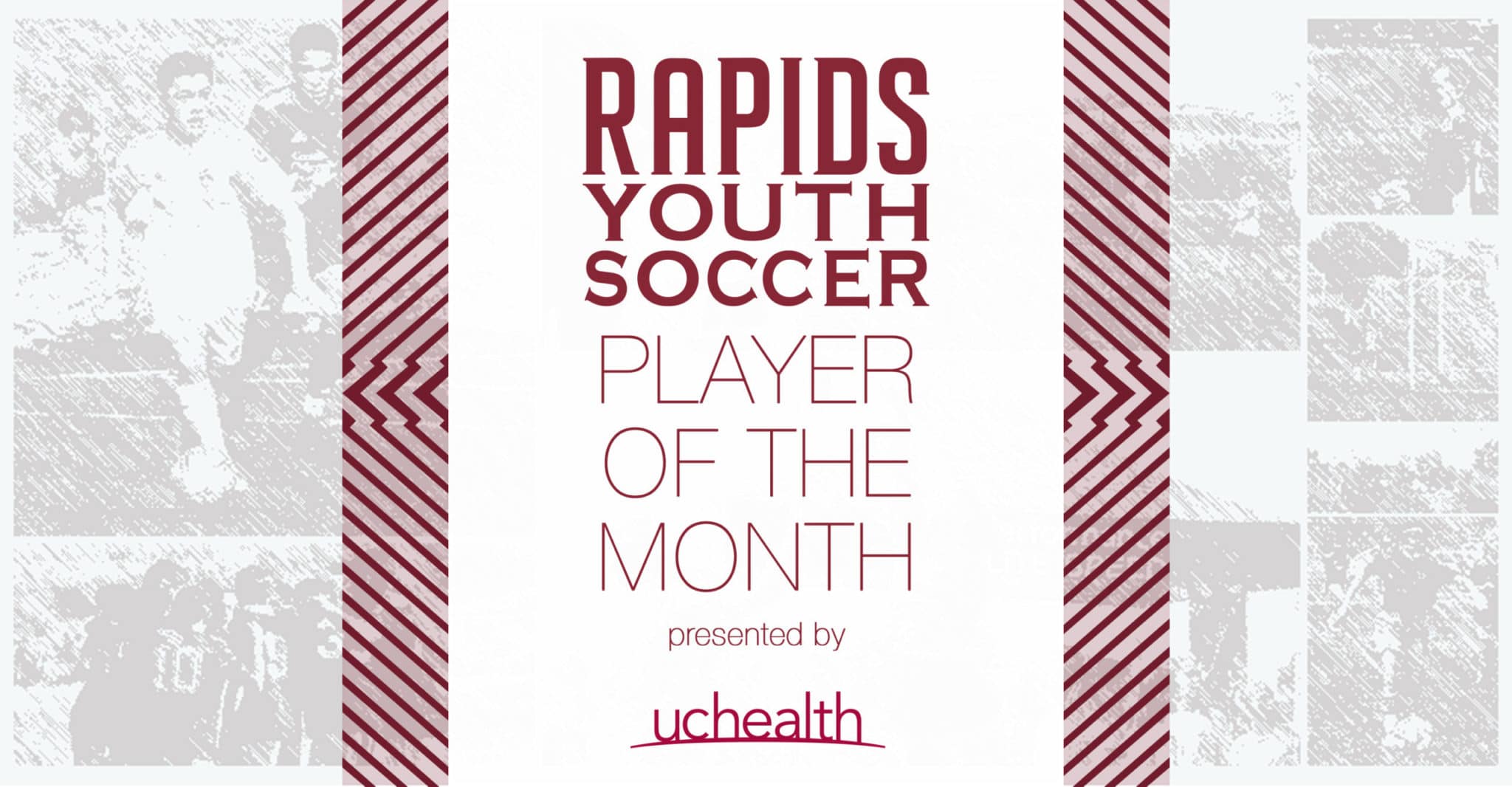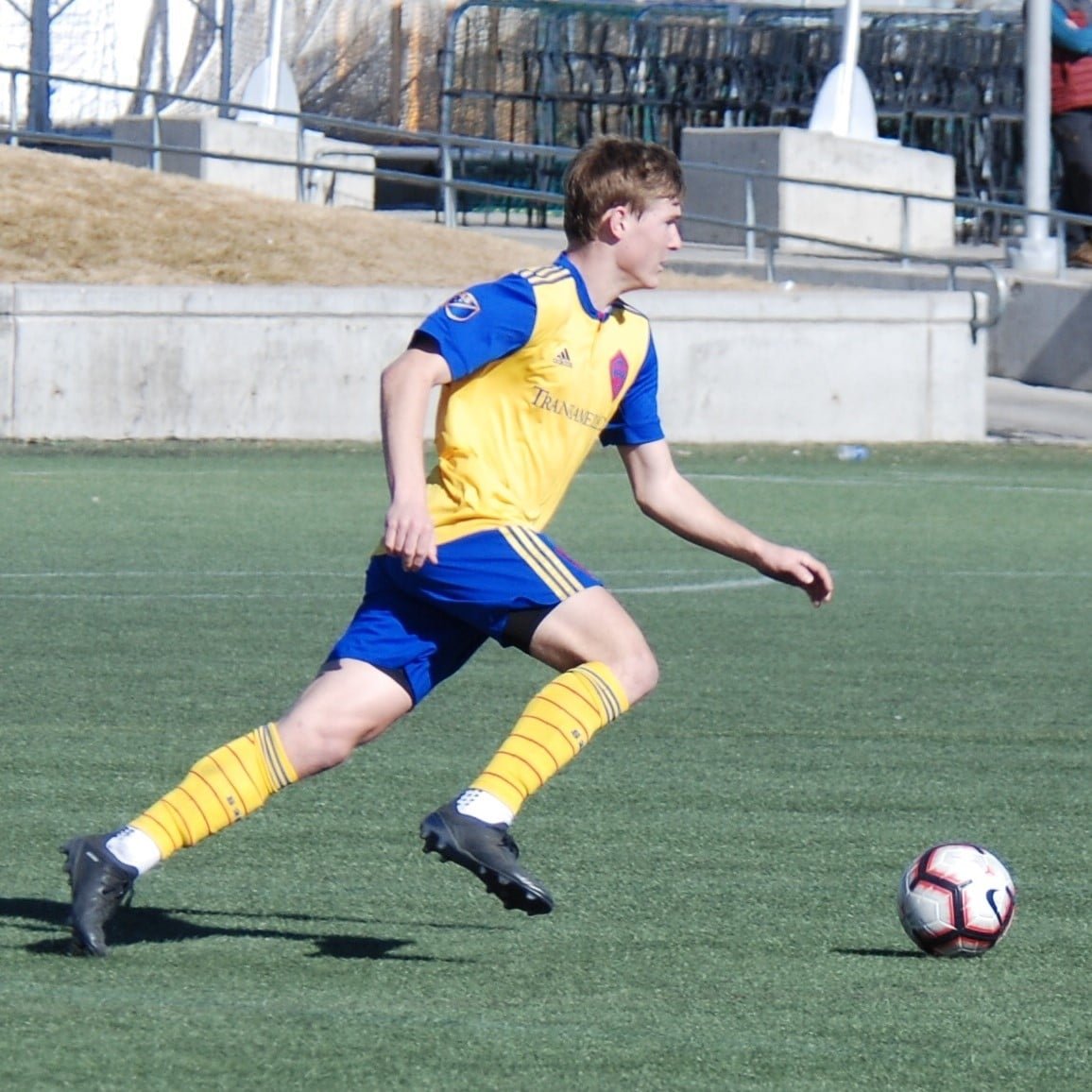 John started in the Rapids Fort Collins region and now plays with the Rapids 03/02B ECNL team as a defensive midfielder, is captain of his club and high school teams, and has been described as a leader both on and off the pitch. He was nominated by his father Chad and is the first-ever recipient of the new CRYSC + UCHealth Player of the Month award! This February, John will be presented with a plaque acknowledging his accomplishment, so watch the CRYSC social pages for more updates.
We spoke with John to get learn a bit more about him and see what drives his game. Check out the interview below!
What influence has soccer had in your life?
Soccer has brought me many lifelong friends, it helped shape my work ethic on and off the field, it taught me how to work with different personalities, and how to understand and take criticism from coaches.
Why do you believe that you were nominated for this award?
I believe I was nominated because of my love of the sport and how it has influenced me on and off the field.
What do you enjoy most about playing for Colorado Rapids Youth Soccer Club?
I enjoy the culture of the teams I've been on, the high level of competition, and traveling is always fun. I've had great coaches who have helped me improve as a player and person, from Rapids Fort Collins, Rapids Central and ECNL. Without the help of Anthony Presnell, the Rapids College Placement Director, I couldn't have navigated the difficult recruitment process and ultimately committed to Colorado School of Mines to play soccer.
What soccer accomplishment are you most proud of?
My biggest soccer accomplishment is hard to pick, but I think it is being named the captain of my high school soccer team since sophomore year.
What academic achievement are you most proud of?
Getting accepted into the highly competitive Colorado School of Mines, my dream school, was a huge academic achievement for me.
How do you think your teammates would describe you?
My teammates would describe me as hard working, focused, and a leader.
What is something that shows your exemplary character, commitment to sportsmanship, community involvement, etc..?
As captain of my Rapids and high school teams, I think it is important to be a good role model, help motivate the team when needed, diffuse a player from a heated exchange, and encourage a player after a bad game.
What's your favorite soccer player and team?
My favorite player is Paul Pogba and my favorite team is Manchester United!
What studies do you hope to pursue in the near future?
I plan to study geological and petroleum engineering at Colorado School of Mines and hope to find a career that will allow me to spend time outdoors, working with the earth and environment.
Who inspires you and why? This can be someone famous or someone you know personally!
Mike Schmidtbauer, YoungLife leader. He is a very easy going person who I can talk to about anything. He is always there to support anyone he meets and will always accept a stranger as a friend. He never leaves anyone behind or out of an activity and has a kind heart.
What else do you enjoy outside of playing for CRYSC?
Other than soccer, I enjoy going skiing, camping, hiking, hunting, boating, and anything else that will bring me into nature. I am also involved with my local YoungLife youth group.
Since 2018, CRYSC and UCHealth + CU Orthopedics and Sports Medicine have worked together in an effort to grow the safety and health resources that are available for Rapids Youth players and members.
As our partnership strengthens with UCHealth, we want to work together to highlight the amazing players within the Colorado Rapids Youth Soccer Club with a monthly 'Player of the Month'. Check out the criteria and nominate any players that deserve to be highlighted by UCHealth and CRYSC on the Player of the Month page.