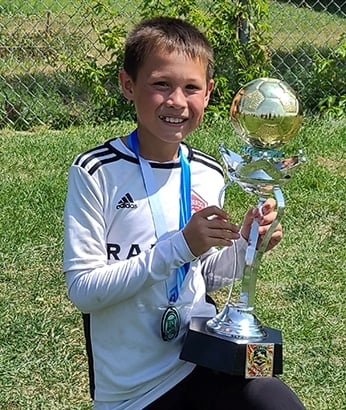 Troy plays for our Rapids 11B South Select I team as a versatile midfielder/defender and our Rapids 11B United Futsal team as the starting goalkeeper. Last futsal season, he was an integral member of multiple Rapids gold medal-winning sides in Las Vegas and Orlando, and his outstanding performances saw him selected to the CRYSC Futures Academy program. Troy has been described as "the consummate team player, always leading by example" on the field and "a straight-A student well-liked by his teachers and classmates" in school.
This April, Troy will be presented with a plaque and gift card to acknowledge his achievement. We spoke with Troy to learn a bit more about him and see what drives his game. Check out the full interview below!
What influence has soccer had in your life?
Soccer has made me more outgoing, confident and has helped me build my leadership skills.
Why do you believe that you were nominated for this award?
Because I work as hard as I can each time I walk onto the field for games and practices. I help my team by giving them positive instructions and encouragement.
What do you enjoy most about playing for Colorado Rapids Youth Soccer Club?
I love that I can play with other kids who have the same passion for soccer as I do.
What soccer accomplishment are you most proud of?
I am proud that my team placed first in Premier 1 last season. I am also proud that my team made it to the finals against one of the best teams in a tournament in Arizona in February 2022.
What academic achievement are you most proud of?
Receiving positive feedback from my teacher during parent/teacher conferences.
"Troy is wonderful. I have zero concerns academically, socially, or emotionally. He's a great student, he's very bright and he also works very hard. He's also super helpful to other students and kind and just an overall good human. As far as data I have for him, he's made 12 points of growth on the standardized math assessment when we hope to see 5 points and he placed in the 94th percentile! So he's doing great in math! " (Jyl Doll – 5th grade Timberline Elementary).
How do you think your teammates would describe you?
Athletic, fast, creative, positive, unselfish, hardworking, and kind.
What is something that shows Troy's exemplary character, commitment to sportsmanship, community involvement, etc..? (Parents Response)
There is not one story to truly demonstrate Troy's exemplary character because his commitment to sportsmanship is something he values and respects. When Troy steps out onto the field, his teammates and opponents regard him as a true sport who gives credit when credit is due. He has exhibited unselfish plays and finds that assisting is as important as scoring. When a player is hurt near him on either team, he will ensure that the player is ok and let the referee know if necessary.
Off the field, Troy's integrity is well-regarded at school and in the community. Troy's teacher has made it a point to highlight Troy's helpful nature when he sees his classmates struggling with an assignment or lesson. He has received numerous school awards for being prepared to learn, always listening, making wise choices, and having a superb attitude. This past Christmas, Troy learned about the spirit of Christmas and helped shop for our adopted families.
What's your favorite soccer player and team?
Cristiano Ronaldo – Manchester United
What do you hope to pursue in the near future?
I would like to one day be on the Colorado Rapids 1st team.
Who inspires you and why? This can be someone famous or someone you know personally!
My parents are my inspiration. My dad shares my passion for soccer and gives me advice and strategies to try during practices or games to build up my skills. I enjoy watching games and highlights with my him and talking about how I could use what we watched in my own game. I get my positivity from my mom. She reminds me that the most important thing is that I learn from each game, that positive thinking can change the outcome of a game, and that having fun and building my skills are just as important as winning. She always yells "Troy, I Love You" from the sidelines before my games start.
What else do you enjoy outside of playing for CRYSC?
I enjoy playing video games, football, and basketball with my friends and soccer teammates.
Since 2018, CRYSC and UCHealth + CU Orthopedics and Sports Medicine have worked together in an effort to grow the safety and health resources that are available for Rapids Youth players and members.
As our partnership strengthens with UCHealth, we want to work together to highlight the amazing players within the Colorado Rapids Youth Soccer Club with a monthly 'Player of the Month'. Check out the criteria and nominate any players that deserve to be highlighted by UCHealth and CRYSC on the UCHealth Player of the Month page.