Dear Rapids Youth Players, Parents, and Coaches,
There have been a lot of questions nationally from players, teams, coaches, and clubs in the last 24 hours surrounding the news that U.S. Soccer will terminate Development Academy operations effective immediately. For Rapids Youth Soccer, it's an exciting time to have strong existing ties with both ECNL and MLS, programs we believe have not only risen to the top, but have become the pre-eminent elite programs in the nation for college and professional consideration.
The conversation regarding the possibility of U.S. Soccer discontinuing Development Academy operations has been ongoing for over a year and the situation with COVID-19 has only sped up the timing of what was believed to be inevitable either way. Leading up to U.S. Soccer's decision, both Elite Clubs National League (ECNL) and Major League Soccer (MLS) have positioned themselves over the last few years to provide the best level of competition nationally on both the boys and girls side. These leagues will not only continue to provide CRYSC players the best opportunity to showcase themselves in the best soccer environments in the United States, but with the termination of the Development Academy, ECNL and MLS now become the only dominant pathways for players in elite programming in the United States.
This January we announced our decision to depart the U.S. Development Academy on the boys side to focus on the boys ECNL and MLS programming. After close analysis, we felt that committing our full pathway to ECNL and MLS would provide a clearer pathway, higher standard, and altogether better experience for our players. We had confidence in that decision at the time and the recent announcements only serve to confirm that we are in the best possible place for youth soccer in the country.
Additionally, last year, we made the decision to continue with girls ECNL in lieu of transitioning to the girls Development Academy as ECNL has consistently shown their ability to give our female players the best opportunity for college recruitment and beyond.
Because of the Development Academy's announcement to terminate operations, other "elite" options are emerging in what some see as a volatile youth soccer environment. For many players, teams, and clubs locally and nationally, the future of their elite programming is unknown, and while we'll always continue to evaluate the best options for our players, we've made decisions leading up to yesterday's announcement that have already positioned our players, teams, and Club for sustainable long-term success. We've expected this and have prepared for it. Rapids Youth Soccer is a top 100 club and the national leader in college soccer placements. In partnership with ECNL and MLS, we'll continue to support and guide our players in the nations top leagues to reach their full potential and give each player the best opportunity of any club nationally to be successful.
There is nothing you need to do at this time, nor anything to be worried about in the near or long-term. Should you have any immediate questions regarding our position, please don't hesitate to reach out to your coach or club director.
Best,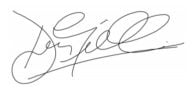 Donald Gillies
CRYSC Technical Director