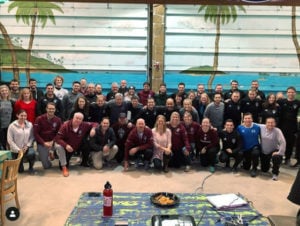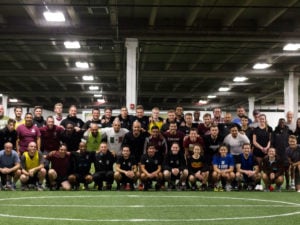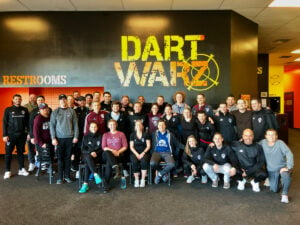 Rapids Youth Soccer is Colorado's premier soccer coaching destination. Supported by a curriculum spanning from the MLS First team down to preschool, Rapids Youth Soccer offers coaching opportunities for every coach, from beginner to advanced.
Full-Time Opportunities (click positions to expand)
A critical role in Senior Management of the club, be a creator, owner, supporter and manager of all CRYSC education provisions. Relative to the CRYSC Player Development Plan for the Elite, Competitive, Select and Recreational Programs, this role will oversee the development and implementation of regional, club wide and external facing coach education opportunities and the progress made towards being recognized as leading club nationally in coach education.
Interested candidates should email their resume and cover letter to the Technical Director, Donald Gillies ([email protected]) with 'Director of Education' in the subject.
Click here to view the application for the Director of Education role at Rapids Youth Soccer!
Operations & Administration
This position reports to the club Central Director of Player and Coach Development. The 11U-14U Girls Director of Coaching (DOC) is responsible for making sure the 11U-14U girls competitive program not only meets but exceeds the needs expectations of CRYSC members, partners and guests. Additionally, this role needs to ensure programs and services within the region align with the overall mission, vision and strategy of CRYSC. 
The Central 11U-14U Girls Director of Coaching (DOC) will oversee the technical and operations for the Central Region of Colorado Rapids Youth Soccer Club's 11U-14U girls advanced level programs, including, but not limited to, design the 11U-14U girls curriculum and technical methodology within the parameters of the Colorado Rapids system, exemplifying the 'Heart Behind the Crest' in all communications with members, partners, and guests, and create a process for and oversee the implementation of the overall Colorado Rapids Technical Development Plan.
Interested candidates should email their resume and cover letter to the Ash Hopkins, [email protected]
Click here to view the application for the Girls 11U-14U Director of Coaching role at Rapids Youth Soccer!
Part-Time Opportunities (click positions to expand)
Tier I: Beginner Coaching Opportunities
CLUB VISION:
"To be the heart behind the crest." 
At Rapids Youth Soccer, we focus on whole player development, both on and off the field. We strive for players to develop a lifelong love of the game and use the skills learned through their time with Rapids to allow them to be successful in all they desire to achieve.   
POSITION VISION: 
Colorado Rapids Youth Soccer Club is looking for passionate coaches to be part of the Soccer Start Program. Soccer Start employs dynamic and motivated individuals to deliver a high-level experience for our youngest Rapids families, ages 3-5 years old. The vocation of the coach, in their role as a trainer, is to introduce players (boys and girls) who want to discover the joys of soccer and initiate them in its practices. 
CORE VALUES:
Win Within

– We strive to be the best in all that we are able to control as individuals and as an organization. We look to be recognized locally and nationally for our expertise and efforts to build a forward-thinking and progressive youth soccer organization.

In and Up

– We look to develop ourselves and those around us working to raise the overall quality and impact of everyone we work with, inside and outside the organization.

Keep it Simple, Keep it Small

– We work to simplify big thoughts and expectations into community and personal executions.

Enjoyment First

– We work to not only enjoy our work, but help those around us enjoy it as well. Additionally, when we win the hearts of our players, their development will improve.

Moment of Truth

– We recognize the importance of every moment and interaction to create something remarkable.

Own It

– We own our roles and responsibilities and hold a high standard for the expectations we are held to. 
POSITION OBJECTIVES:
Lead training sessions for six weeks per season. 

Promote learning through play.

Promote a sporting education based on respect and fair play from the youngest age.

Encourage a spirit based on the enjoyment of playing.

Foster a safe environment for players and spectators. 

Focus on physical, social, cognitive, and emotional development through the program. 

Model good behavior through positive action and attention. 
RESPONSIBILITIES:
Read the coaching plan each week prior to the session. The Soccer Start curriculum is designed to be relatable and fun for the kids, while also teaching them the basic skills of soccer.

Arrive 20-30 minutes early to ensure enough time for set up and wear Rapids gear each week.

Inform the Soccer Start Program Director and Site Director of any absent sessions, following the established process.

Introduce children to soccer in a fun, inviting, and non-threatening atmosphere where they can learn, grow and play together – regardless of skill level or experience.

Emphasize having fun and learning the sport – not winning or what the score is.

Teach the basic rules of the game and reinforce these rules during activities and scrimmages.

Focus activities on basic soccer skill development, hand/eye and foot/eye coordination, listening skills, and teamwork.

Help players understand the concept of the sport through the final scrimmages.

Attend Coach Education and paid staff meetings.

Check fields before the sessions for any possible hazards that could cause injury. 

Make sure all players have been picked up before leaving the practice field.
MARKERS OF SUCCESS:
Positive experience:

Every member of the training staff should provide a high-level experience for our Rapids families. 

Creating a good learning environment:

By letting

the game be the teacher, the players are encouraged to learn. 

Develop player self-esteem and self-confidence:

The value of understanding children, being fair and enthusiastic, as well as being a positive role model, cannot be underestimated.
Locations: Central Region; Crestmoor Park, Central Park Area, and North-West Denver Area. Teachers and early childhood educators a plus. 
The Club provides equal employment opportunities (EEO) to all employees and applicants for employment without regard to race, color, religion, gender, sexual orientation, national origin, age, disability, marital status, amnesty, or status as a covered veteran in accordance with applicable federal, state and local laws.
Job Type: Independent contractor, 6-week commitment 
Pay is $15 per hour payable on a monthly basis. Position is an independent contractor and not an employee of the Club, and therefore is not entitled to any of the benefits associated with such employment. To apply, please submit a cover letter and resume to Charlie Alvarez Bacha, [email protected], with the subject titled "Soccer Start Coach". Applications will be accepted on a rolling basis until positions are filled.
Rapids Recreational Camps are designed for players of all levels to have fun and play soccer in a safe environment. Players range in age from five to ten years old. Each coach works with a group of approximately 10 similarly-aged players. Minimal soccer experience is required, but coaches must be able to engage a group of children with enthusiasm. The camp curriculum and equipment will be provided.
Pay: $15-$25 per hour depending on experience
Tier II: Intermediate Coaching Opportunities
Tier III: Advanced Coaching Opportunities
Ready to Apply and Join the Club?
Apply for part-time Coaching Positions or for our Event Staff Community Aid Program through the links below: