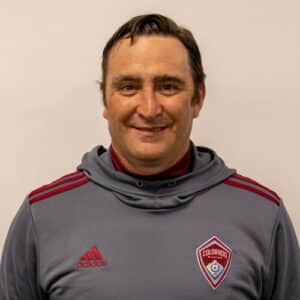 Background Summary
Role: Soccer Start – 6U-7U DoC, South 2010B Select II
Licenses: USSF National C License, USSF National Youth License & Real Madrid Foundation Diploma
Experience: 14+ Years
Coach Background
Carlos "Charlie" Alvarez Bacha played semi pro soccer from 1996 to 1999 with Pumas TUC and Necaxa Chalco as a Striker and played college soccer at Mexico' City's La Salle University Law Faculty. He began his coaching career as a volunteer coach for Texas Premier Club in Katy, Texas, and became a staff coach with Eclipse Soccer Club in Sugar Land, Texas. In 2014, he became Elite Futbol Club U9-U10 Academy Director. In December 2017, he moved to Colorado with his wife and daughter. He started at CRYSC in March 2018 in the Central Region REC Plus program before coaching in the South Select 9U-10U & 11U-12U Competitive program. He was CRYSC Soccer Start Director for Central and South Regions overseeing the 3-5 years old players. Starting 2021, then became the Soccer Start 6U/7U Director for the South Region. He's involved now in the ECNL 2006 Boys team as well.
Approach to Personal Training
Every detail counts to build up the set of skills to play better, individually and collectively. "A good Technical Execution leads to a great Tactical Application".
Contact Information