Colorado Rapids Youth Soccer Club (CRYSC) and Regis University are excited to announce a new partnership that will expand player access to top-of-the-line, local facilities and create a new home for Rapids Elite programming.
Colorado youth soccer players seeking to compete at the highest levels of the game nationally now have access to train and compete at one of Colorado's best soccer and futsal facilities, the Rapids Youth Soccer Elite Performance Center @ Regis University. CRYSC has engaged in a long-term partnership with Regis University to provide another important step towards building a fully-integrated, nationally recognized Elite program, creating new training and competition opportunities for ECNL Boys and Girls, WPSL players, local and national Futsal leagues, Elite Development Squad (EDS) teams, as well as access to Colorado's top residential soccer and futsal camps.
Rapids Youth Soccer is proud to call the new Elite Performance Center at Regis University home in 2022 and look forward to watching this partnership grow alongside our athletes. For further Rapids Youth Soccer + Regis University partnership details, check out the full press release and visit Regis.edu through the links below.
Synthetic Turf Playing Fields (with Lights)
Match-Day Pitch
Futsal Facility (The Berce)
Office Space & Team Classrooms
Auditoriums
On-Site Dining with Extended Hours @ Walker's Pub and Starbucks
Regis Scholarships
Regis Interships/Fellowships
Elite Performance Center @ Regis University
The Elite Performance Center will be located at Regis's historic Northwest Denver campus, conveniently located on Federal Boulevard between Interstate 70 on the south and Interstate 76 on the north, and only minutes from downtown Denver.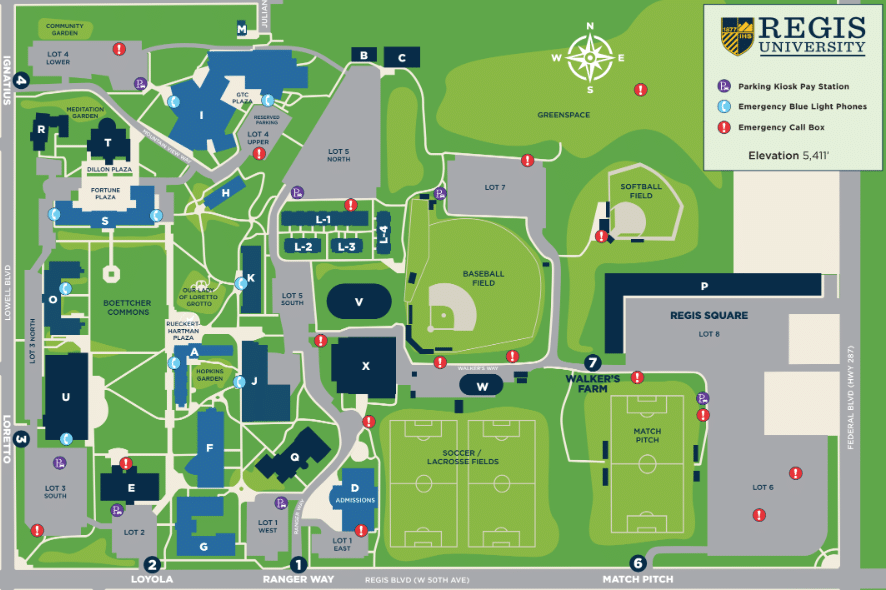 Explore the Campus Layout
Two Synthetic Turf Playing Fields with Lights
Two new synthetic turf fields with lights will house the majority of all Elite soccer programming, with plowing capabilities that limit days off. State-of-the-art field lights will showcase the fields and our training and game capabilities, along with stands for spectators, scoreboards, and concessions.
The Match-Day Pitch will provide overflow for programming with one of the best fields in Colorado for training and game-day, with a scoreboard and stands for spectators with plenty of parking.
The Berce @ Regis University will be the only futsal-designated facility in Colorado, housing two full-size futsal pitches with futsal-specific lines to develop Colorado's top futsal talent across the Front Range, with year-round programming and summer and residential futsal camps.
Office Space & Team Classroom Education
On-site offices @ Clarke Hall for our Elite staff provide an overlooking view of the two synthetic turf fields along with classrooms dedicated to player education at our convenience.
Education is a priority for our players, coaches, and parents. With auditorium access, we look to host on-site player, coach, and parent education.
On-Site Dining and Residential for Camps and Traveling Teams
CRYSC is looking to develop one of the nation's best residential camp experiences for soccer and futsal at Regis. With access to residential dorms and on-site dining, CRYSC will host Elite-level residential camps alongside Regis University and its staff.
Regis University houses an accredited arboretum that contains more than 1,280 trees that CRYSC families can enjoy while on campus. Additionally, the trees offer a buffer and shelter from some of the Colorado elements such as high winds.
Regis University has committed to individual scholarships for Rapids Youth Soccer Club players for up to $100,000 over four years, providing greater access to an excellent education for students across the Front Range. Regis recognizes that sports participation is often a catalyst for greater academic achievement and college enrollment opportunities. For more info, visit regis.edu/rapidsyouth or contact [email protected].
Fellowships / Internships
As part of Rapids Youth Soccer and Regis University's commitment to providing academic advancement opportunities for local students, our organizations are working together to create internship and work experiences within Rapids Youth Soccer for Regis students in fields like finance, marketing, leadership, health and wellness, event management, coaching, and more. Students will work alongside Rapids Youth staff to gain real-world experience and help shape the organization for future Rapids Youth players.
Elite Performance Center | FAQ