Posted by: Curtis Gardner | Director of Outreach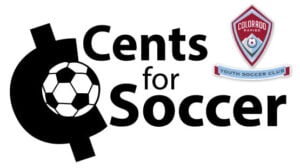 When I started my work with the Rapids Outreach Department, we were tasked with an ambitious fundraising target to match a grant from the U.S. Soccer Foundation. I received some wise advice about this: "Curtis, you're not going to nickel and dime your way to such a huge target." I agreed, and for the first several months, we set out fishing for a big score – a $180k grant here, a $92k grant there, and a slew of others in the $5k-$25k range. As the clock ticks forward, our fundraising strategies are adapting. After several conversations, we have decided to do exactly the opposite of the wise advice: we're launching a nickel and dime campaign. Literally.
Introducing: Cents for Soccer! A grassroot campaign for the masses.
Our office is currently full of containers. Empty mason jars, plastic peanut butter cans, old water bottles from the Bladium Lost and Found, a few randomly shaped glasses from Goodwill. In the next two weeks, these containers are going to be deployed out into Denver with one simple mission: to collect as many coins as possible.

But the jars need your help. They can't do it all on their own. We need schools, churches, offices, and shops to host a jar, or two, or three, and set them up in a good spot with plenty of foot traffic. We need people to fill the jars with as many coins as possible before December 10, when the jars will be returned into our care.
Maybe we can't nickel and dime our way all the way to the target. However, we believe in the power of a grassroots approach, in fundraising as a means for advocacy, and in mobilizing different audiences of supporters. It doesn't hurt to learn more about our Outreach programming in the meantime, so you can help champion the cause.
Getting Involved with Cents for Soccer
Step 1: Email ([email protected]) or call us and ask for a jar.  We'll put a cool sticker on it and bring it right to you.
Step 2: Make it rain coins. It helps to throw a few of your own coins into the jar before you set it out.
Step 3: Bring the jar(s) to one of the two Young American Bank locations we are using as "drop-off" spots between 10AM-2PM on December 10.
Young Americans Bank 3550 E. 1st Ave, Denver, CO 80206

Young Americans Bank 4800 Telluride Street, Bldg 5, Denver, CO 80249
Cents for Soccer.  It's the easiest thing you can do to support a great cause.