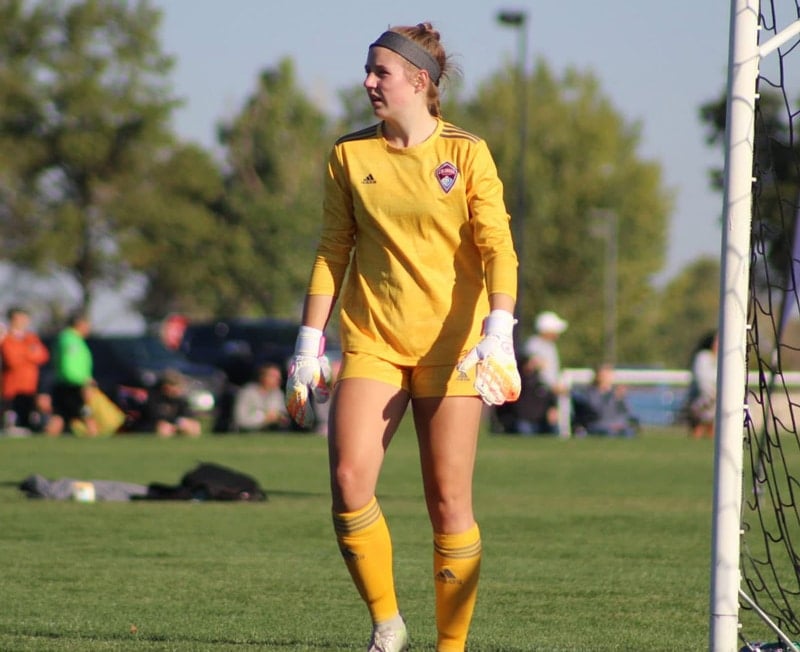 Paige plays for our Rapids 06G Fort Collins Select team as a goalkeeper. In the Fort Collins region, she is known for her leadership abilities, positivity on and off the field, and respect for all. Her leadership qualities are exemplified through her athletic achievements, academic success, and community involvement. Paige is a long-standing member of our CRYSC community, with this year being her seventh at the Club! She is also a two-year letter winner at Fort Collins High School for basketball and soccer, a 2021 second-team selection for soccer, an honorable mention selection for basketball, and the winner of the 2021 Colorado State Cup.
In her free time away from the fields, Paige is a member/committee member of the 3 Rivers Church youth group, a peer counselor at Fort Collins High School, a link leader, and an assistant for special needs students in her integrated drama class. At school, Paige maintains a 4.0 GPA, is enrolled in AP Calculus, and is a member of the Select Treble Choir.
This January, Paige will be presented with a plaque and a gift card to acknowledge her achievements. We spoke with Paige to learn a bit more about her. Check out the full interview below!
What influence has soccer had in your life?
Soccer has been a passion of mine for as long as I can remember. It has taught me many important lessons, such as commitment and hard work. Soccer has made me who I am, driven, competitive, passionate, kind, hard-working, and many other things.
Why do you believe that you were nominated for this award?
I believe I was nominated because of my leadership on and off the field. Being able to lead my teammates through difficult situations from the back and making saves when they are needed. Off the field constantly showing up to practice and goalie training with a smile and a readiness to work hard to improve my skills.
What do you enjoy most about playing for Colorado Rapids Youth Soccer Club?
I have been with Rapids Youth Soccer since they moved to Fort Collins, and they have been my second home. Being able to walk to practice and stop to say hello to my previous coaches and meet new ones along the way sets Rapids apart.
What soccer accomplishment are you most proud of?
Not one accomplishment comes to mind. I am proud of winning the state cup in 2021 and going to west regionals the year prior as a guest player with an older CRYSC team. Overall, I am proud of my growth as a player over the years. Even from the beginning to the end of this past season, I can see my growth as a goalkeeper, and I am so proud of that accomplishment.
What academic achievement are you most proud of?
Lettering in academics is something I will always be proud of because being a student-athlete in high school is very challenging.
How do you think your teammates would describe you?
From my teammates themselves: hardworking, energetic, positive, leader, confident, and uplifting.
What is something that shows your exemplary character, commitment to sportsmanship, community involvement, etc..?
In 2018, I suffered from a traumatic injury playing indoor and then a broken ankle just months later. Many kids my age called me crazy for still wanting to play sports after those injuries. I however was waiting for the day I could get back on the field and I came back a smarter player because of it. This shaped my character and proved my resilience, passion, and commitment to the sport I love.
What's your favorite soccer player and team?
Alyssa Naeher and Mallory Pugh
What do you hope to pursue in the near future?
Currently, I am in the recruiting process looking to play soccer at the college level. Past that I am still figuring out how I can turn my interests on and off the field into a career.
Who inspires you and why? This can be someone famous or someone you know personally!
My older brother inspires me because of his work ethic and dedication to his sport. He is constantly focused and pushes me to be a better athlete. I also am inspired by Shayne Young, a former basketball teammate, because of her kindness, loving soul, and leadership. She set an example for me when I was younger. Playing with her for a few years and seeing her lift up her teammates has been a constant inspiration.
What else do you enjoy outside of playing for CRYSC?
I enjoy hanging out with my friends and going on adventures with them. Playing varsity basketball and soccer for the Fort Collins Lambkins and spending time with my loving parents, without whom none of this would be possible.
Since 2018, CRYSC and UCHealth + CU Orthopedics and Sports Medicine have worked together in an effort to grow the safety and health resources that are available for Rapids Youth players and members.
As our partnership strengthens with UCHealth, we want to work together to highlight the amazing players within the Colorado Rapids Youth Soccer Club with a monthly 'Player of the Month'. Check out the criteria and nominate any players that deserve to be highlighted by UCHealth and CRYSC on the UCHealth Player of the Month page.