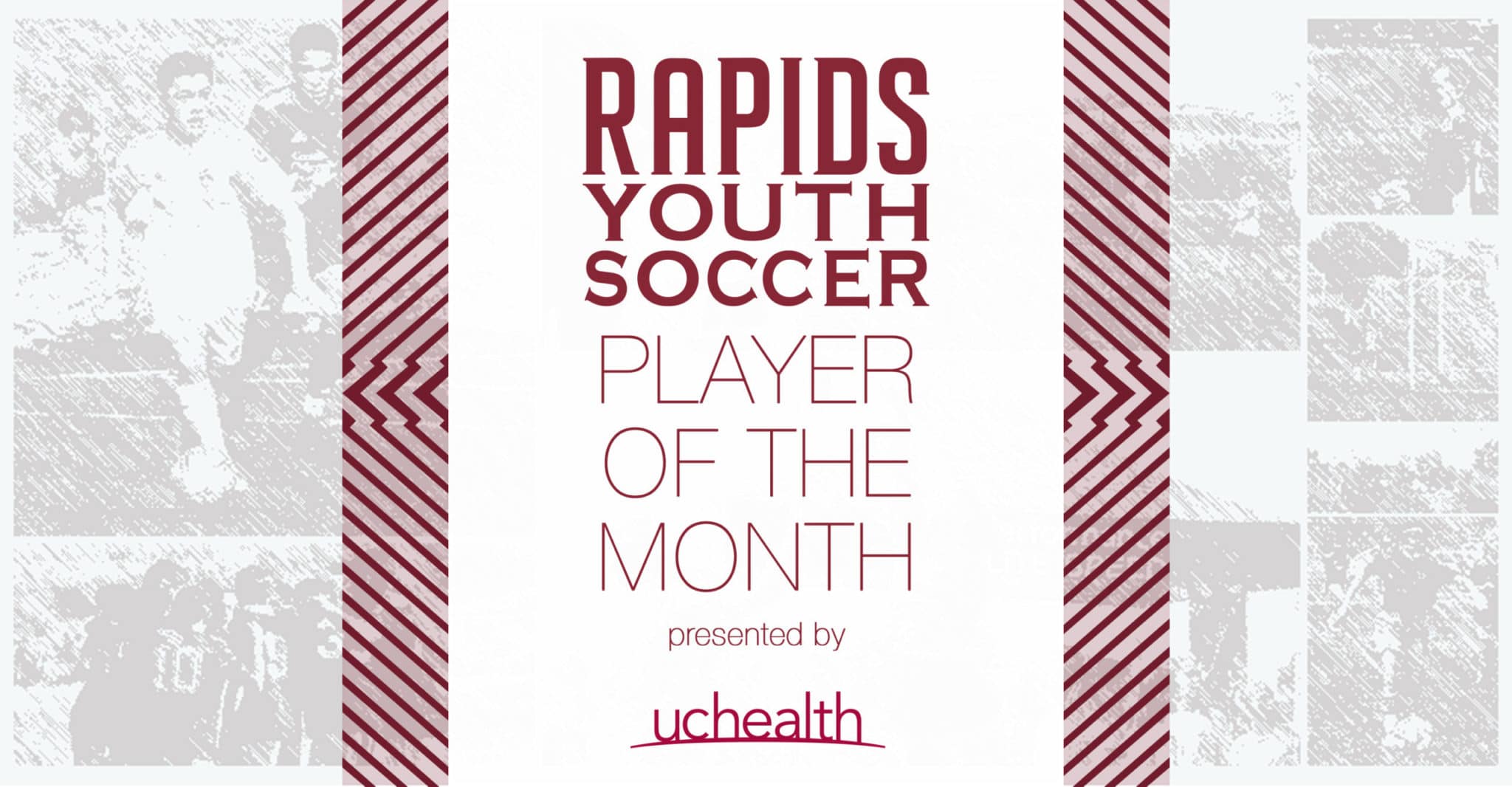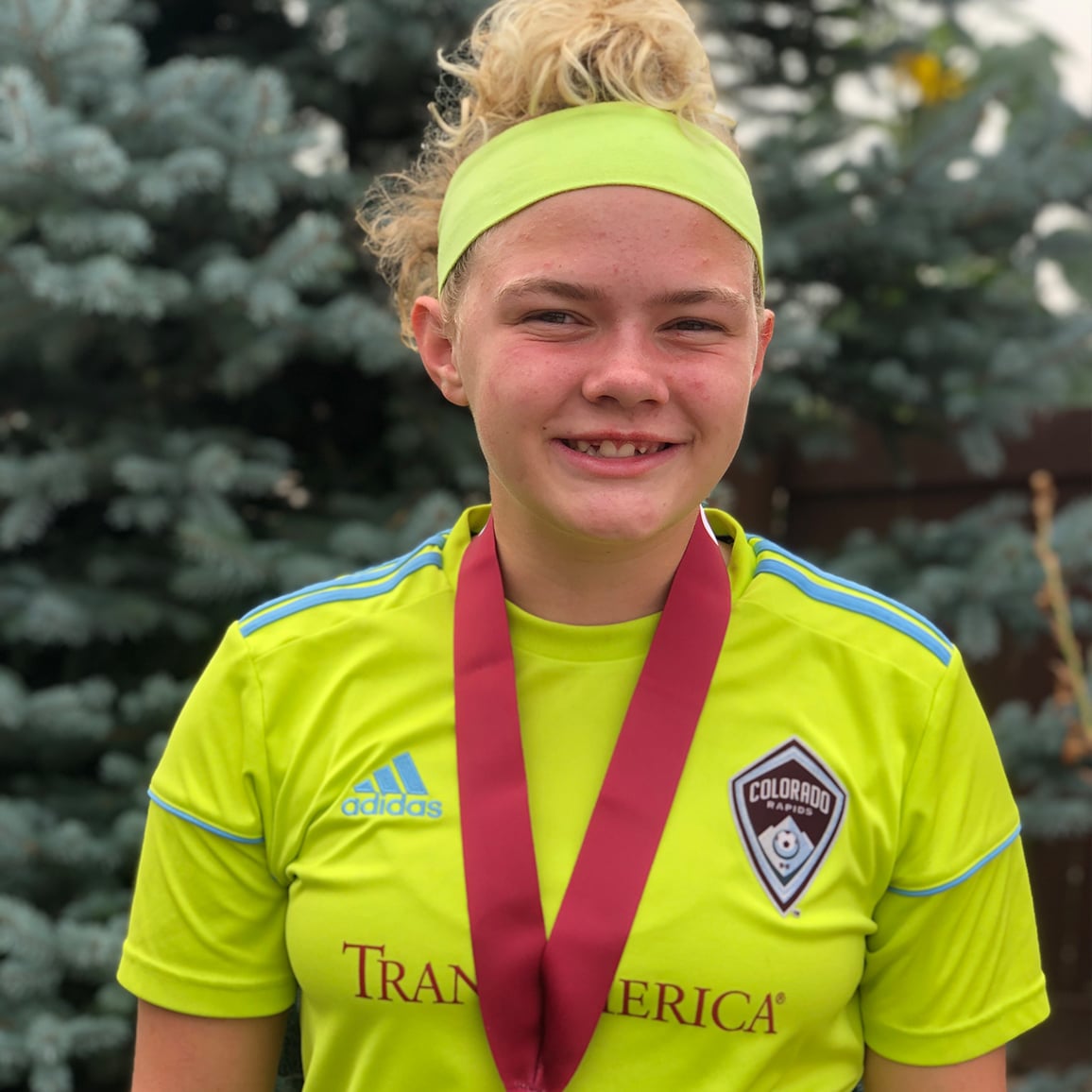 Sara plays in the Rapids Fort Collins region with the Rapids 08 Select girls as the team's goalkeeper. She has gained a reputation as a player that leads by example, with a strong dedication to self-improvement and helping others grow in the goalkeeper position. Sara loves the game and is always out training on the fields with her teammates, running drills in her back yard, or working with younger players as a mentor.
This March, Sara will be presented with a plaque acknowledging her accomplishment, so watch the CRYSC social pages for more updates.
We spoke with Sara to get learn a bit more about her and see what drives her game. Check out the interview below!
What influence has soccer had in your life?
Soccer has brought so much to my life – I have made great friendships and have had fun making memories. I think some of the most important influences it has had on me though, is that it has taught me to work hard, have courage to do hard things, and how to keep a clear mind during challenging times.
Why do you believe that you were nominated for this award?
I'm not really sure! But, I do believe that I am a hard worker both on and off the field, show compassion, and strive to always have a positive attitude.
What do you enjoy most about playing for Colorado Rapids Youth Soccer Club?
I have had so many great Rapids coaches that have taken the time to mentor me and help me to develop a love for the game. I have enjoyed all of the teams that I have been part of and have made some great friends. I also really love giving my parents a heart attack when I dive a people's feet during a 1v1 🙂
What soccer accomplishment are you most proud of?
This award is a huge honor. Also, there have been some tournaments that my team has won via a shoot out. Also, I am so proud that my team moved up a division for Spring 2021!
What academic achievement are you most proud of?
I am taking some advanced classes and am on the Honor Roll at my school. I try to get my homework done before soccer practice each day.
How do you think your teammates would describe you?
Kind, Strong, Fearless, Joyful, a hard worker… and a big hugger! Also, not afraid to get dirty in the mud!
What is something that shows your exemplary character, commitment to sportsmanship, community involvement, etc..?
I have been sewing masks for the Denver Mask Task Force for homeless shelters. (I love making toddler sized masks) Also, I always try to cheer up a teammate if they are having a hard time, or get injured.
What's your favorite soccer player and team?
That is tough. But I loved watching Tim Howard at the Rapids. I also love watching USWNT games – Alyssa Naeher is amazing!
What studies do you hope to pursue in the near future?
I hope to continue playing soccer in college and beyond. I can't imagine my life without soccer. I am interested in pursuing a medical career that will allow me to continue to be involved in soccer when I am older.
Who inspires you and why? This can be someone famous or someone you know personally!
My teammates inspire me, because we all push each other to work harder and find success. Also, my family inspires me. They drive me all over the state, and are always my biggest cheerleaders. I hope to make them proud. My coaches inspire me too – from my rec coaches, to my team coaches, and my goalkeeper coaches, I try to apply what they have taught me each time I'm on the field and work to become a stronger player every day.
What else do you enjoy outside of playing for CRYSC?
I love spending time with my family. We like to be in the mountains – biking, hiking and skiing. I also participate in track. In my downtime at home I love to read, sew and do crafts.
Since 2018, CRYSC and UCHealth + CU Orthopedics and Sports Medicine have worked together in an effort to grow the safety and health resources that are available for Rapids Youth players and members.
As our partnership strengthens with UCHealth, we want to work together to highlight the amazing players within the Colorado Rapids Youth Soccer Club with a monthly 'Player of the Month'. Check out the criteria and nominate any players that deserve to be highlighted by UCHealth and CRYSC on the Player of the Month page.