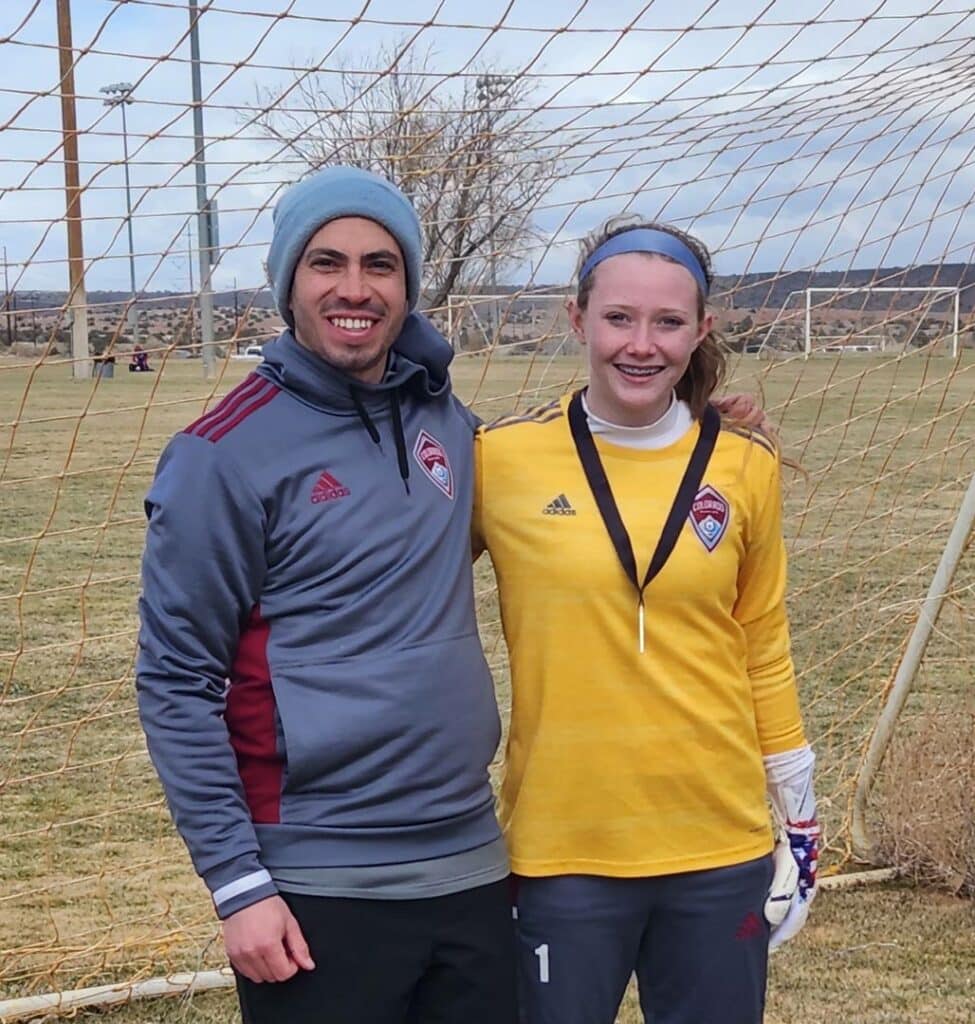 Elly is a goalkeeper for our Rapids 09G South Select I team, where her teammates and coaches know her to be fearless and determined in front of the goal. In February, at the FC Spring Cup in New Mexico, Elly had three shutouts in four games, leading her team to a tournament victory. In addition, Elly is a member of our CRYSC Elite Futsal program. She was selected as team captain at the Las Vegas Showcase and has recently been selected to attend the Oklahoma City National Training Camp in June.
In the classroom, Elly is in the gifted and talented program, National Junior Honors Society, and is taking double advanced classes in some subjects.
This April, Elly will be presented with a plaque and a gift card to acknowledge her achievements. We spoke with Elly to learn a bit more about her. Check out the full interview below!
What influence has soccer had in your life?
Soccer has impacted my life in almost every aspect. For me, it goes further than just filling up my schedule and teaching me how to play a sport. It has taught me so many important lessons, like how to always have a positive attitude even if things aren't going the way you want them to. Soccer has also taught me responsibility, self-accountability, and sportsmanship.
Why do you believe that you were nominated for this award?
I believe I was nominated for this award because I am always working hard to get better regardless of everything around me. I dedicate everything to soccer and enjoy it along the way. I also think I was nominated because I am a big leader and make sure to positively lead a team to success.
What do you enjoy most about playing for Colorado Rapids Youth Soccer Club?
I enjoy two things. The first thing that I enjoy is how much availability there is for other opportunities. There's a constant source of programs, private training, and camps for us to improve on all fronts. I also really like the energy and just the overall attitude of the people. You can tell that everyone here loves the game and is excited to be here. Everyone is so positive and has such a great attitude.
What soccer accomplishment are you most proud of?
Scoring a game-winning PK to win my team's championship game of the spring cup. I am also very proud of my clean sheet games, and game-deciding saves. Lastly, I am very proud of how much I have grown and improved over the fall season after moving to South.
What academic achievement are you most proud of?
Scoring a 1327 on the PSAT as well as being in the Gifted and Talented program and taking 2 years of advanced math.
How do you think your teammates would describe you?
I think my teammates would describe me as the energy of the team. I always make sure to bring a good attitude no matter what is going on and try to motivate my team and keep the energy up. I think they would also describe me as dedicated and hard-working. Soccer is my first priority and no matter what I make sure to be there to motivate the team.
What is something that shows your exemplary character, commitment to sportsmanship, community involvement, etc..?
When I was in the 5th grade, a boy in my class was being bullied by his friends so he went and sat alone at a table and looked really sad. When I saw it, I told my friends, and we all went over to his table, ate with him, and kept him company.
What's your favorite soccer player and team?
My favorite player is Brittany Wilson, who is the keeper for Angel City FC and my favorite team is the US Women's team.
What do you hope to pursue in the near future?
I hope to go on to be Gatorade player of the year and play for the University of North Carolina as starting keeper. My biggest goal in life is to play for the US Women's team. I also aspire to play on ECNL and each day work hard to get closer and closer to that dream.
Who inspires you and why? This can be someone famous or someone you know personally!
My biggest inspiration is God. This is because I have everything to thank Him for, and He has always kept me safe and blessed me. Other people also inspire me, like the USMNT Keeper because he didn't even start playing soccer until high school, and it reminds me to slow down, and I don't have to do everything right now.
What else do you enjoy outside of playing for CRYSC?
Outside of playing for CRYSC, I really enjoy hanging out with my friends and family, going on runs, and watching movies.
Since 2018, CRYSC and UCHealth + CU Orthopedics and Sports Medicine have worked together in an effort to grow the safety and health resources that are available for Rapids Youth players and members.
As our partnership strengthens with UCHealth, we want to work together to highlight the amazing players within the Colorado Rapids Youth Soccer Club with a monthly 'Player of the Month'. Check out the criteria and nominate any players that deserve to be highlighted by UCHealth and CRYSC on the UCHealth Player of the Month page.