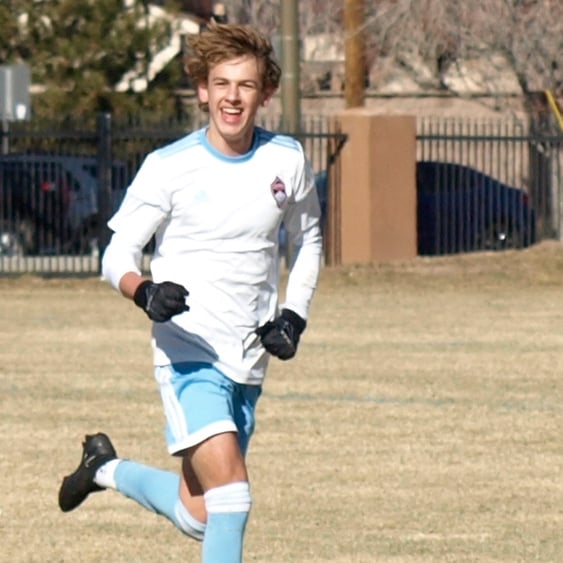 Clayton plays left midfield / forward for our Rapids 06B ECNL team, where his teammates and coaches know him as a hard worker and role model for aspiring young leaders. Clayton was a good friend of Luis Garcia, an East High School student who was tragically killed in early 2023 due to gun violence. Clayton and a number of his teammates have called for action to end gun violence by using their voices online, creating t-shirts, and wearing those shirts while warming up for a game this spring. Clayton also spoke at the State Capitol to parents, students, and the Denver community, highlighting plans to end gun violence in the community. Off the field, Clayton is an exceptional student at East High School, maintaining a 4.8 GPA and making the Principal's Honor Roll, all while maintaining a busy training schedule.
This September, Clayton will be presented with a plaque and a gift card to acknowledge his achievements. We spoke with Clayton to learn a bit more about him. Check out the full interview below!
What influence has soccer had in your life?
Soccer has always been something important to me my entire life. As I grew up playing, I learned to understand the value of the sport and how it influences me to hold myself to high standards, compete, and win, not only in the sport but in other aspects of my life.
Why do you believe that you were nominated for this award?
I believe I was nominated for this award because of the work I put in as a player and my dedication to the sport. Everything I do in life is with the goal of improving and becoming better at what I love.
What do you enjoy most about playing for Colorado Rapids Youth Soccer Club?
As a Rapids player my favorite part about the club is the community and the passion. Playing on a Rapids team means you are part of something bigger than just yourself and the team, it is a community of people who love soccer and respect each other. Working day in and day out to get better but also smiling and laughing after a hard day of practice.
What soccer accomplishment are you most proud of?
This last year was a pretty good year for me. I was chosen to represent the Rapids in the ECNL National Selection game in Rock Rock, Texas and was also part of the 5A Colorado State Championship team from Denver East. Both of these experiences were really fun and made me feel that all of my hard work had paid off.
What academic achievement are you most proud of?
I am most proud of maintaining a 4.8 GPA and making the Principal's Honor Roll, all while maintaining a busy training schedule.
How do you think your teammates would describe you?
I believe my teammates would describe me as a player with confidence and someone who isn't going to back down from a difficult situation. I do my best to demonstrate my abilities on the field while also showing how I can adjust and adapt to some things that may not be going well on the field.
What is something that shows your exemplary character, commitment to sportsmanship, community involvement, etc..?
I got the opportunity to speak at the state capitol on gun control reform in support of my friend and teammate who was a victim of gun violence.
What's your favorite soccer player and team?
My favorite team is Tottenham Hotspur and my favorite soccer player right now is Mohammed Kudus on Ajax.
What do you hope to pursue in the near future?
In my future I hope to play high level college soccer and take my abilities to the next level.
Who inspires you and why? This can be someone famous or someone you know personally!
The people that inspire me the most are my parents. Throughout my whole life they have always been the most supportive people I know. My dad shows up to almost 100% of my games (even the Sunday League I play in). They put their children before themselves and are always there to support and want the best for me. Their dedication inspires me to keep working towards my goals.
What else do you enjoy outside of playing for CRYSC?
Recently I have gotten more into film and photography. I love to take pictures and edit videos and am working to get better at both. I also love spending time with my friends and playing golf.
Since 2018, CRYSC and UCHealth + CU Orthopedics and Sports Medicine have worked together in an effort to grow the safety and health resources that are available for Rapids Youth players and members.
As our partnership strengthens with UCHealth, we want to work together to highlight the amazing players within the Colorado Rapids Youth Soccer Club with a monthly 'Player of the Month'. Check out the criteria and nominate any players that deserve to be highlighted by UCHealth and CRYSC on the UCHealth Player of the Month page.