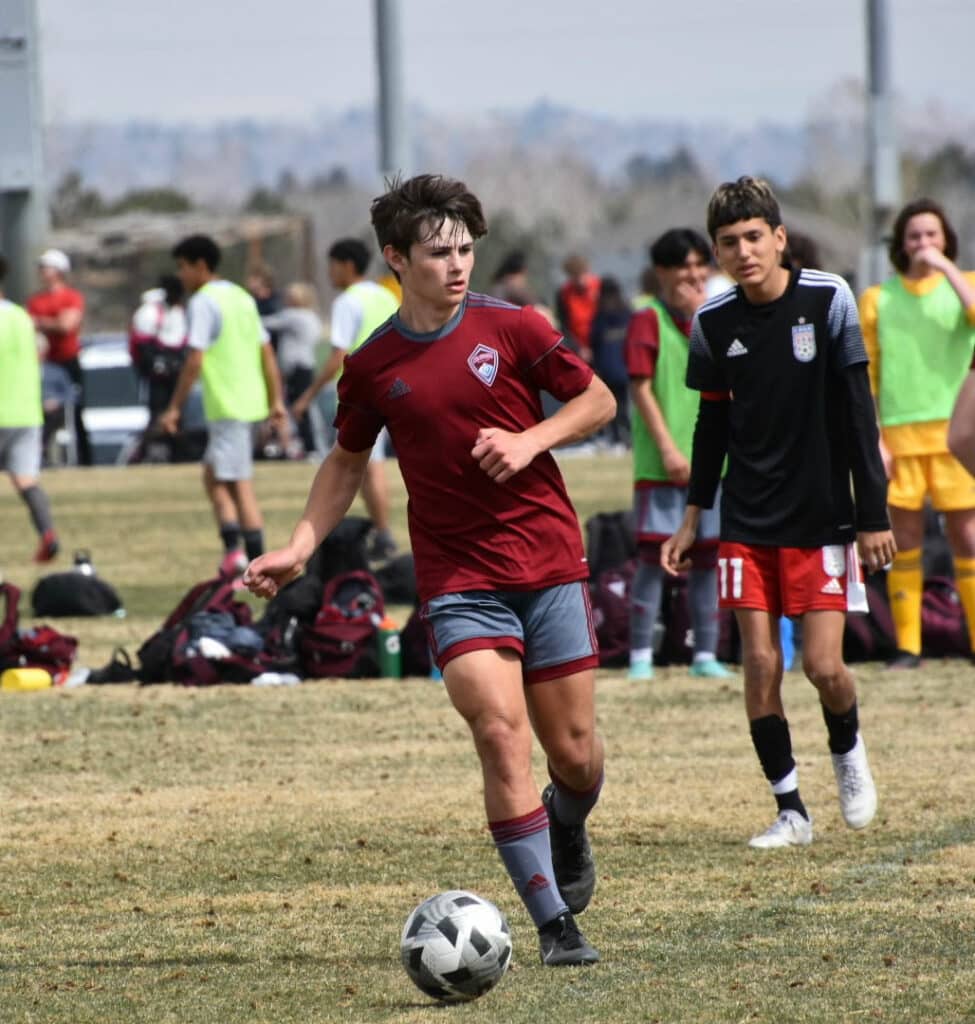 Shawn plays outside back for our Rapids 06B South Select team, where his teammates and coaches know him as a defender that demonstrates quality, consistency, and leadership. In January 2023, Shawn participated in a #CRYSCInternational trip to Germany. On the trip and on the field, Shawn was regularly one of the best-performing players and a leader in the dressing room. Off the field, Shawn took exceptional ownership of his team's representation of CRYSC abroad. Throughout the trip to Germany, he was a behavioral example to the group and balanced the joys of travel with the focus and discipline required to compete at a high level.
In the classroom, Shawn has been on the honor roll at Douglas County High School for four of his last five semesters and was a member of the National Junior Honor Society.
At Douglas County High School, Shawn has been a starter his entire high school career, earning three varsity letters and adding impressive accolades to his resumé, including:
Honorable Mention Continental All-League (Spring 2021)
1st Team Continental All-League (Fall 2021, Fall 2022)
Team Captain (Fall 2022)
Outside of soccer, Shawn runs track at Douglas County, qualifying for the 5A Colorado State Championships in three events. In his younger years, Shawn was a gifted cross-country runner, competing in various USATF Junior Olympic Events across Colorado and regularly making nationals. In 2014, Shawn won the national event for his age group. Shawn is also a 6x All-American in XC.
While he isn't playing sports, Shawn is an active member of his community. He spends his free time volunteering for organizations such as Rylies ARK, St. Francis of Assisi Food Bank, and the Town of Castle Rock Athletics. He is also a track coach for the Town of Castle Rock youth track teams and a member of both the St. Francis of Assisi youth group and Journey Church youth group.
In March, Shawn will be presented with a plaque and a gift card to acknowledge his achievements. We spoke with Shawn to learn a bit more about him. Check out the full interview below!
What influence has soccer had in your life?
Soccer was a big part of my childhood from when I was four years old, playing for Storm before Rapids. Through it, I have met many great friends, which has made me love the sport. Soccer training has helped improve me at other sports I participate in.
Why do you believe that you were nominated for this award?
I believe I was nominated for this award because of my work ethic and hard work on the field to help my teammates.
What do you enjoy most about playing for Colorado Rapids Youth Soccer Club?
What I enjoy most is the community of great coaches and players who all love the sport and are all willing to help you improve. One of my favorite memories with Rapids happened this past January when we traveled to Germany with my teammates and other club players and played soccer in a different country. I never imagined that I would get the opportunity to play against three different German teams and also get to attend a professional soccer match in Stuttgart, Germany—an unbelievable chance of a lifetime that I will never forget.
What soccer accomplishment are you most proud of?
I am most proud of playing Varsity at Douglas County High School during my freshman, sophomore, and junior years, being Captain for my high school team my Junior year, and being selected First Team All-League in the 5A Continental League two years in a row. I am looking forward to my senior year in the fall at Douglas County and playing my last two seasons with Rapids this spring and next year.
What academic achievement are you most proud of?
I was in the National Junior Honor Society in middle school. I then started high school during covid in 2020 and didn't have the greatest start to my GPA my freshman year. I found it challenging to learn virtually, and only being able to be in person with my teachers for less than half of the year was a challenge. But over my sophomore and junior years, I have greatly improved my grades and GPA.
How do you think your teammates would describe you?
We, Shawn's parents, believe his teammates would consider him a dominant force on the field, a player who can anticipate the other player's moves and defend with strength, skill, and determination. He is an unselfish player and can still defend and get the job done. Shawn is quiet, but once you get to know him and get a chance to watch him play, you will see his passion and love of the game come through in his actions. He is a clean player and one you don't want to go up against, as he will most likely win the ball. Shawn's Coach, Coach Kesti from DCHS, had these words: Shawn's sportsmanship and character greatly overshadow his athletic abilities, and his athleticism makes him a standout on the field. Whether experiencing success or facing adversity, his character is constant, strong, and grounded. Shawn is an outstanding representative for his team, always setting the example and keeping teammates in line if their character wavers. In addition to leading by example, Shawn motivates and encourages his teammates with a positive impact.
What is something that shows your exemplary character, commitment to sportsmanship, community involvement, etc..?
Shawn decided to coach with the Town of Castle Rock Recreation Center Youth Athletics in the track program last summer. He really stepped out of his comfort zone and took a leader role in coaching these youth with the ins and outs of track. He found that he really enjoyed being able to share his love for the sport while building relationships with the kids and coaching them through the trainings and sharing the joy of their accomplishments at the track meets.
What's your favorite soccer player and team?
My favorite player is Sergiño Dest, and my favorite team is Real Madrid.
What do you hope to pursue in the near future?
In my future, I hope to pursue kinesiology for sports medicine or sports management while hopefully continuing my soccer career throughout college
Who inspires you and why? This can be someone famous or someone you know personally!
My parents inspire me because they are always there to help me as a person and as an athlete, and they have always been there for me since the start of my soccer career and have helped me grow to who I am today. They have always helped in the community and with my soccer teams with managing and organizing things for the team.
What else do you enjoy outside of playing for CRYSC?
Outside of CRYSC I like to run track, go skiing, and hangout with my friends and family.
Since 2018, CRYSC and UCHealth + CU Orthopedics and Sports Medicine have worked together in an effort to grow the safety and health resources that are available for Rapids Youth players and members.
As our partnership strengthens with UCHealth, we want to work together to highlight the amazing players within the Colorado Rapids Youth Soccer Club with a monthly 'Player of the Month'. Check out the criteria and nominate any players that deserve to be highlighted by UCHealth and CRYSC on the UCHealth Player of the Month page.