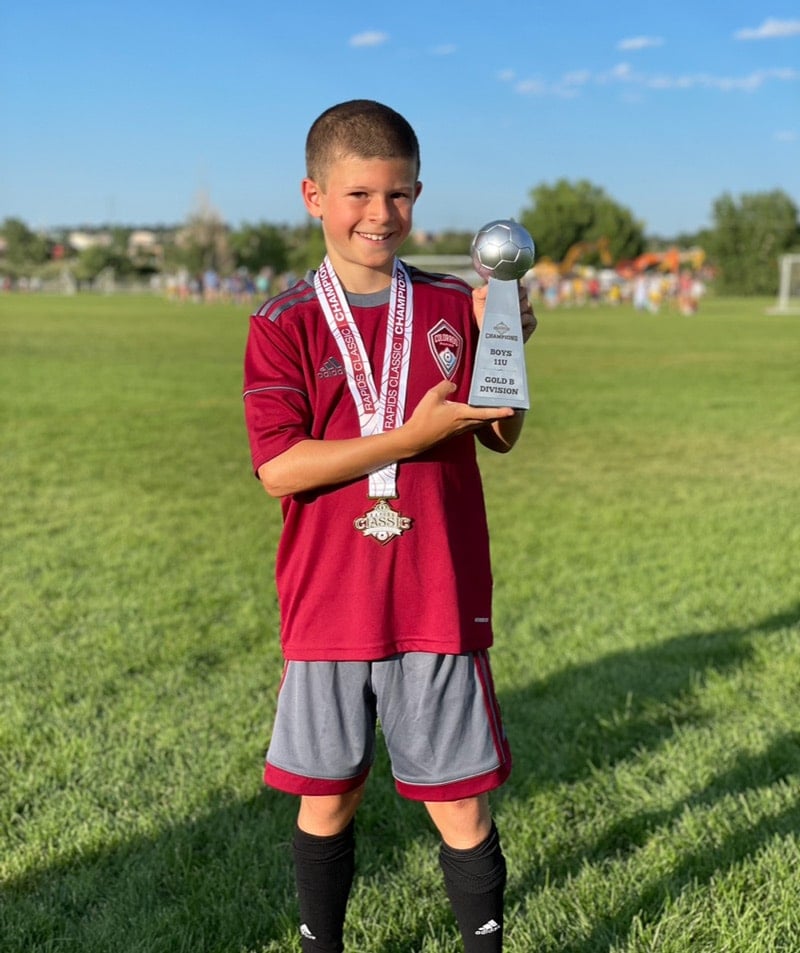 Jackson plays as a midfielder for our Rapids 11B Central Select I team. Teammates and coaches know him as one of the hardest-working players in the region, an open-minded learner, and an athlete with a strong desire to improve his game. Through coaching evaluations and reflections, Jackson has stood out as an athlete who continually grows in his passion for the game and his abilities on the field. Most recently, Jackson has worked his way into the EDS pool, training five times weekly and playing most weekends against top-level competition.
In the classroom, Jackson receives top marks from his teachers as a 6th-grade student at Graland Country Day School. He is also actively engaged in the Gates Invention and Innovation program. Currently, Jackson is inventing a new product to earn a U.S. patent. In addition, he was recently selected to be an admissions shadow partner and new student ambassador at his school.
Outside of soccer, Jackson is a competitive alpine skier with the Winter Park Competition Center. Last year at the U12 Rocky Mountain Ski Championships, Jackson finished in the top 20 in Giant Slalom and the top 30 in Slalom versus athletes representing eight states. This year at Graland, Jackson has participated in the cross-country and basketball programs.
In February, Jackson will be presented with a plaque and a gift card to acknowledge his achievements. We spoke with Jackson to learn a bit more about him. Check out the full interview below!
What influence has soccer had in your life?
Soccer has given me a ton of great friends and friendships that give me tremendous joy. It has also given me something to look forward to working on or participating in every day. It also motivates me to become my best and helps me work through and overcome other challenges in my life.
Why do you believe that you were nominated for this award?
Because of my hard work and dedication, my positive attitude towards my coaches and teammates, and I show up every day with a coachable spirit and an attitude that is ready to learn. I also always try to be the hardest worker on the field and give it my all every day.
What do you enjoy most about playing for Colorado Rapids Youth Soccer Club?
I love the coaches' dedication to the players – the coaches always show up with the best versions of themselves and work to help all the Rapids athletes become the best players they can be on and off the pitch. I also love my teammates and the fact that it is a positive organization that is accepting of everyone regardless of their background.
What soccer accomplishment are you most proud of?
Earning a spot on the 2011B EDS roster halfway through the season based on my hard work and dedication.
What academic achievement are you most proud of?
I am most proud of receiving the Hidden Hero award at my school. The hidden hero award recognizes the student that exemplifies the school's core vales and places the community above themselves.
How do you think your teammates would describe you?
My teammates would describe me as hard working, unselfish, and supportive.
What is something that shows your exemplary character, commitment to sportsmanship, community involvement, etc..?
While ski training this year, I was skiing toward the top of a training course with my team, and as we approached the start of the course, one of our teammates caught an edge and fell and hit her head. Her ski released and hit her in the face, and there was a lot of blood. I quickly rushed to her side to see if she was ok while many of my teammates skied off to go to the course. I ignored my training and immediately called one of the coaches to have them get ski patrol to help. I then stayed with her to ensure that she was alright, remained conscious and calm, and then made sure that ski patrol knew exactly what had happened before taking her down in the sled. The next morning I saw her and, unprompted by anyone, went over to see if my teammate was ok and how she was feeling.
What's your favorite soccer player and team?
Kevin De Bruyne and Manchester City
What do you hope to pursue in the near future?
One day I hope to become a professional athlete.
Who inspires you and why? This can be someone famous or someone you know personally!
Pelé. Because he was born into poverty and had many challenges growing up (including playing soccer with a grapefruit instead of a ball). His work ethic and determination lead him to become the greatest player in the world.
What else do you enjoy outside of playing for CRYSC?
I love to ski and am a competitive ski racer. I also really enjoy spending time in the mountains (hiking, camping, mountain biking, stand-up paddle-boarding, etc), golfing, and spending time with family and friends (usually outside).
Since 2018, CRYSC and UCHealth + CU Orthopedics and Sports Medicine have worked together in an effort to grow the safety and health resources that are available for Rapids Youth players and members.
As our partnership strengthens with UCHealth, we want to work together to highlight the amazing players within the Colorado Rapids Youth Soccer Club with a monthly 'Player of the Month'. Check out the criteria and nominate any players that deserve to be highlighted by UCHealth and CRYSC on the UCHealth Player of the Month page.