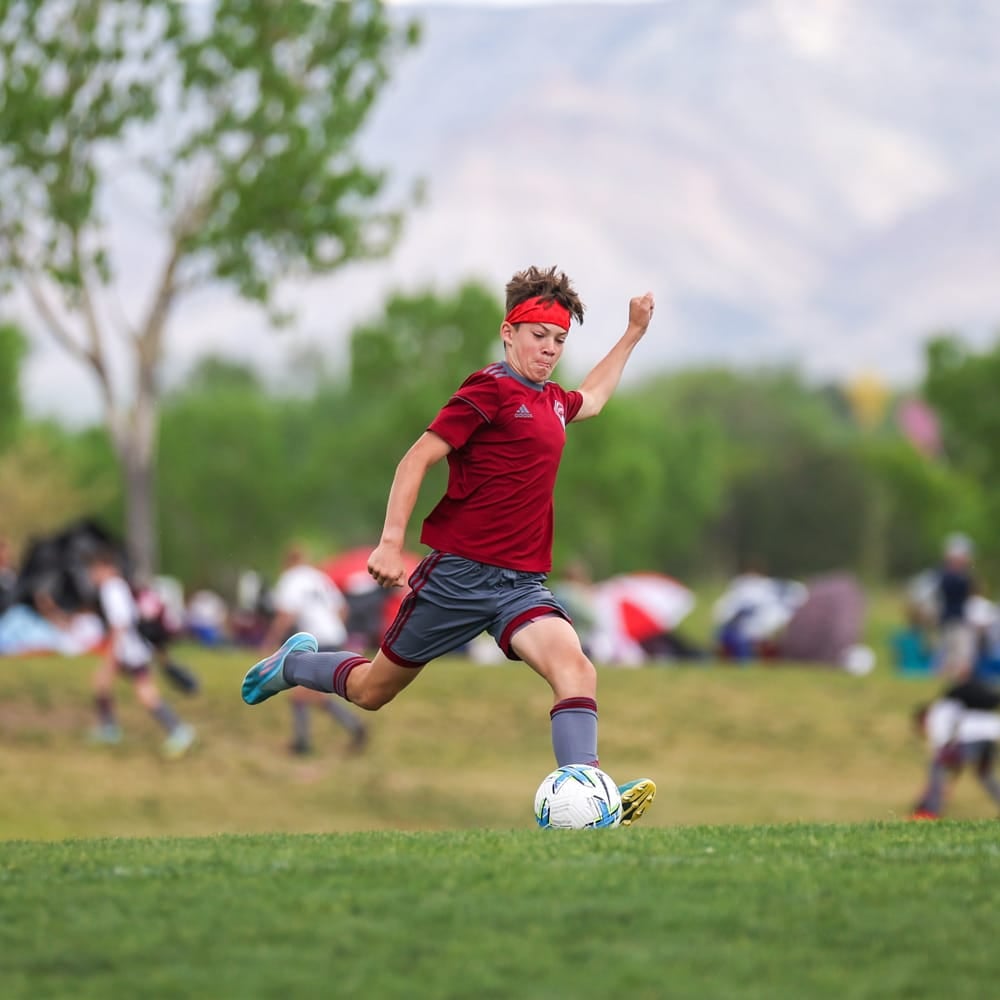 Quinn is a left-back and center midfielder for our Rapids 10B North Burgundy team, where his teammates and coaches know him to be a humble leader with a drive to make others around him better. In the past three years, Quinn has had three different coaches and maintained his vital role in the team, often being selected as captain. In addition, Quinn is a double-sport athlete, playing at the highest level of competitive basketball for his age group. At school, Quinn was recently inducted into the National Junior Honors Society for exceptional leadership. He also won the Pride Award in his class and maintains a 3.875 GPA.
This June, Quinn will be presented with a plaque and a gift card to acknowledge his achievements. We spoke with Quinn to learn a bit more about him. Check out the full interview below!
What influence has soccer had in your life?
Soccer has gotten me to be physically fit and something I look forward to every day. Soccer has given me the opportunity to make a lot of new friends that I enjoy spending time with on and off the field. It has taught me discipline and responsibility. The biggest influence is it has made me an overall better person.
Why do you believe that you were nominated for this award?
I think I was nominated for this award because I work on and off the field as hard as I can. I train in practice like it is a game to make me better. I also feel I am a good leader on my team and a role model to try your hardest all the time. I also think I was nominated because I work hard at school to obtain and maintain strong grades.
What do you enjoy most about playing for Colorado Rapids Youth Soccer Club?
The Rapids always want us to have good teamwork and I really like all of my coaches. The coaches come up with good drills to keep us improving. They keep us engaged because they want to help us be better soccer players.
What soccer accomplishment are you most proud of?
I am most proud of how strong of a soccer player I have become since becoming a Rapids player. I am also very proud of the tournaments our team has won. I am proud that I have been captain of my team the last couple of seasons. Last year I was voted in as captain by my teammates. I work hard to keep my spot on the team and never take it for granted.
What academic achievement are you most proud of?
I am proud of making the National Junior Honor Society as a 6th grader at Aspen Creek. I work hard on my school work and take pride in it. I maintain a 3.9 GPA this year, all while playing competitive soccer, competitive basketball, and running track for my school.
How do you think your teammates would describe you?
My teammates would describe me as talkative, encouraging, helpful, and trusting. I think they would describe me as being a leader on the team who is accountable to the team and myself. They would describe me as having integrity.
We, Quinn's parents, believe his teammates would describe him as focused player on the field. He is an unselfish player and will cheer the loudest for his teammates and also pick them up if someone is having a hard game.
Quinn's Coach, Coach Gustavo, has these words: Quinn has always been a fantastic teammate. Always brings such great energy to both training and games. You can really tell his teammates have picked up on that and in all honesty Quinn has set the tone for the team by doing so. I have enjoyed coaching him this season, he is a very coachable kid and is willing to learn and make himself get better. Quinn pushes himself hard and he makes sure his teammates do the same. I know all the boys on the team would run through a brick wall for him and I believe he would do the same for his teammates.
What is something that shows your exemplary character, commitment to sportsmanship, community involvement, etc..?
As a player of any game, we all get excited to score for our team. As Quinn's parents, what we love is his heart and the excitement he gets when his teammates do well. He has the same excitement if not more for his teammates when they score as he does when he scores. He takes pride in knowing its a team sport and by lifting each other up, they all do better together. He will be one of the first players high-fiving, chest bumping, or cheering from the sidelines when a teammate scores a goal on the score field or basket in basketball.
What's your favorite soccer player and team?
My favorite soccer team is Liverpool and my favorite soccer player is Mohamed Sallah, who plays for Liverpool.
What do you hope to pursue in the near future?
In the future, I would like to play high school soccer for Broomfield HIgh School and go to college after that and study real estate.
Who inspires you and why? This can be someone famous or someone you know personally!
I am inspired by my coach, Gustavo Gutierrez because he pushes me in practice to be a stronger player. When I show up, I know he is going to push me outside of my comfort zone to make me a better player on and off the field. I'm inspired by what he did while playing soccer in high school, after high school, and how great he is as a coach. He also won the Colorado state championship for the same high school I want to play for. Seeing his name on a Championship Trophy at the school I will attend motivates me to be a strong player.
What else do you enjoy outside of playing for CRYSC?
Outside of CRYSC, I run track for my school, participate on a competitive basketball team, snow skiing, water skiing, spending time with friends, family, and my twin sister.
Since 2018, CRYSC and UCHealth + CU Orthopedics and Sports Medicine have worked together in an effort to grow the safety and health resources that are available for Rapids Youth players and members.
As our partnership strengthens with UCHealth, we want to work together to highlight the amazing players within the Colorado Rapids Youth Soccer Club with a monthly 'Player of the Month'. Check out the criteria and nominate any players that deserve to be highlighted by UCHealth and CRYSC on the UCHealth Player of the Month page.