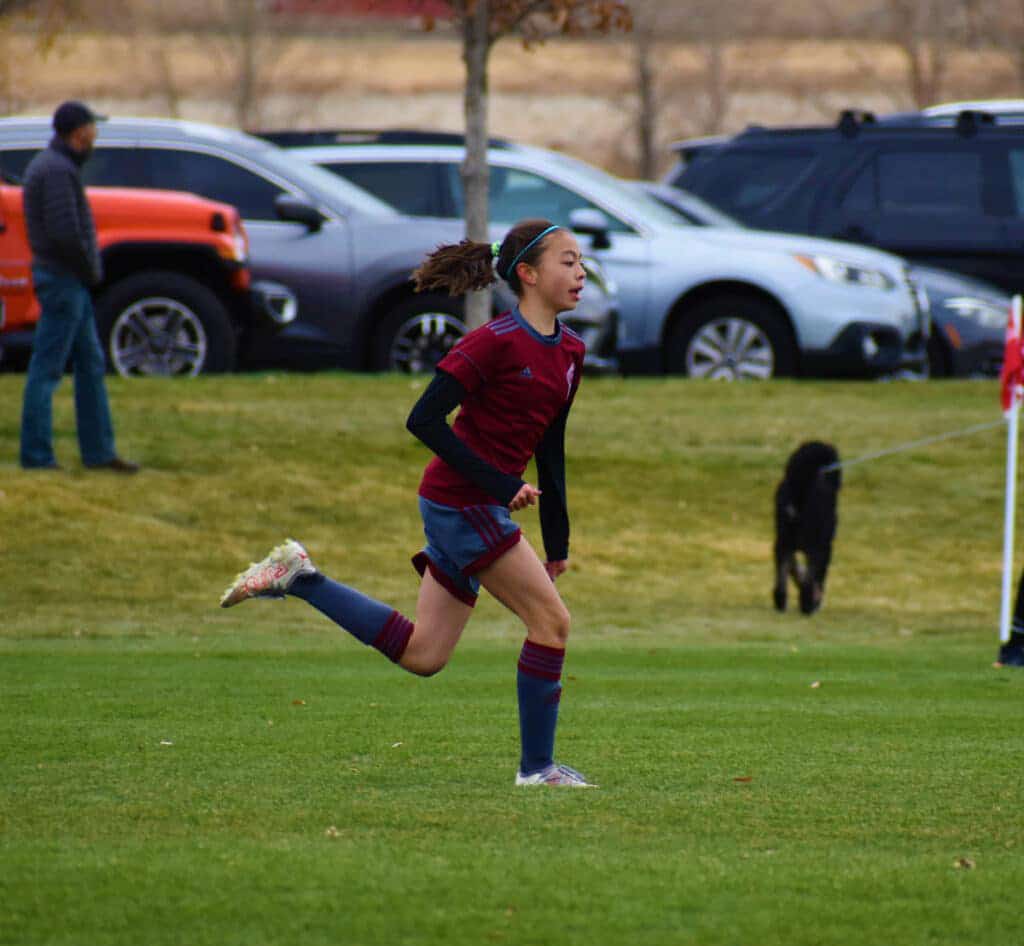 Scarlett plays for our Rapids 09G Central Select I team as a center back. She is known by her teammates as a hard worker with a strong drive to improve herself and the players around her. On and off the field, Scarlett leads with action and positivity. She is also a compassionate advocate for diversity in sports.
This year, Scarlett and her teammates topped their division and won first place at the Real Cup. In her free time, she is a referee for girls and boys 12U 7v7 games and enjoys "the opportunity to be a role model for players wanting to be a part of multiple facets of the game regardless of their gender, age, and status."
At school, Scarlett is a SHINE (Showing How Inclusivity Nurtures Excellence) leader, volunteering for school activities and responsible for helping new students feel welcomed and empowered. Scarlett is also fluent in Mandarin and maintains a 4.0 GPA.
This December, Scarlett will be presented with a plaque and a gift card to acknowledge her achievements. We spoke with Scarlett to learn a bit more about her. Check out the full interview below!
What influence has soccer had in your life?
Soccer has been a positive influence on my life. It has taught me how to work with a team and be a good team player. It teaches me to be disciplined and focused as well as to listen and work hard to achieve my goals. Everything I learn in soccer can be used in all aspects of my life in school and while facing other challenges.
Why do you believe that you were nominated for this award?
I was so surprised and very honored to be nominated for this award. I would say I was nominated because I am consistently working hard and always trying to improve my skills. While I am soft-spoken, I try to lead by example, while staying positive and being a good teammate.
What do you enjoy most about playing for Colorado Rapids Youth Soccer Club?
I have played with the Colorado Rapids Youth Soccer Club since I was 4 years old and love how they continue to help me excel in soccer. Throughout the years, I consistently have amazing coaches who constantly challenge and support my development, both on and off the field. It meant a lot to me that during the COVID-19 pandemic, my coaches held weekly Zoom meetings and practices to check in with us to make sure we were doing okay and that we were continuing to work on improving our skills. Everything the Club does shows their dedication to us as players.
What soccer accomplishment are you most proud of?
After playing on a recreational team for many years, I started on the Burgundy B competitive team. With hard work and dedication, I have moved up over the years in my current team, the Select 1 team. I was also proud to play for my middle school team and loved playing for both McAuliffe and Rapids in the same season.
What academic achievement are you most proud of?
I am proud that I can exceed expectations academically while balancing soccer and other sports and activities. I also received a "Respect" award at school and was nominated by a teacher to receive an Asian Education and Leadership award, which meant so much to me.
How do you think your teammates would describe you?
I think my teammates would describe me as a quiet leader, and someone who is hardworking, focused, positive, and kind.
What is something that shows your exemplary character, commitment to sportsmanship, community involvement, etc..?
I love all aspects of soccer! In addition to playing and watching soccer, I also referee CRYSC soccer 7v7 games and I am a coach for the Soccer Start program. I especially enjoy refereeing and coaching girls because I want to be a positive role model to younger girls. I think representation is so important and I want girls of color and Asian-decent to know they can play competitively and also be coaches and referees!
What's your favorite soccer player and team?
My favorite soccer players are Megan Rapinoe, Rose Lavelle, and Crystal Dunn. My favorite soccer team is the USWNT.
What do you hope to pursue in the near future?
I would love to continue playing soccer for as long as I can. I want to pursue being a Doctor of Physical Therapy or Sports Medicine and my dream is to be the team doctor for the USWNT!
Who inspires you and why? This can be someone famous or someone you know personally!
Megan Rapinoe inspires me because she is awesome and an amazing soccer player. She also advocates for women's equal pay and leads by example. My parents inspire me because while they have busy jobs, they always make time for our family and are kind to everyone. My teammates inspire me because they are dedicated and have positive attitudes, constantly encouraging and lifting me up.
What else do you enjoy outside of playing for CRYSC?
In addition to playing soccer for CRYSC, I like playing tennis, skiing, and snowboarding. I also love doing arts and crafts and spending time with my family. I also like to travel and hope to go to China soon so I can practice speaking Mandarin.
Since 2018, CRYSC and UCHealth + CU Orthopedics and Sports Medicine have worked together in an effort to grow the safety and health resources that are available for Rapids Youth players and members.
As our partnership strengthens with UCHealth, we want to work together to highlight the amazing players within the Colorado Rapids Youth Soccer Club with a monthly 'Player of the Month'. Check out the criteria and nominate any players that deserve to be highlighted by UCHealth and CRYSC on the UCHealth Player of the Month page.